At work, inside burning buildings, Capt. Caleb Holt lives by the old firefighter's adage: Never leave your partner behind. At home, in the cooling embers of his marriage, he lives by his own rules. His job is to rescue others. Now is Caleb Holt ready to face his toughest job ever?rescuing his wife's heart.

As the couple prepares for divorce, Caleb's father challenges his son to commit to a 40-day adventure he calls "The Love Dare." Is it too late, or will Caleb's eyes be opened to the love he has at home and the love he has in Christ?
This license is only available from Lifeway in the United States and Canada. Any other use in any other territory is strictly prohibited.
The Love Dare Bible Study
The Love Dare Bible Study is an 8 session study based around movie clips from the motion picture FIREPROOF, and connects couples to The Love Dare, both during the session and throughout the week. The study creates a marriage-centered Bible study experience, based on The Love Dare journal from the movie FIREPROOF. It helps provide opportunities to talk about real life in real marriage, explore and apply God's Word, and invites participants into a risky but redemptive journey!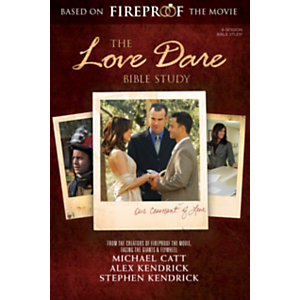 Fireproof Your Marriage
Fireproof Your Marriage is the perfect Bible study for couples within your church. This six-week study will challenge readers to love better, love first and love for a lifetime. Biblical principles make this study ideal for use in Sunday School, a small-group Bible study, or at a marriage retreat. The Fireproof Your Marriage study integrates movie clips from Fireproof, key Scriptures, thought-provoking questions and devotionals, and concepts from The Love Dare book.