It's 6:30 a.m., and the Shirer household is beginning to stir. Priscilla starts breakfast as the Shirer's three boys (ages 10, 9, and 4) clamor into the kitchen. Her husband, Jerry, who's been up since 4:30 a.m., is steps away in their home office in suburban Dallas. He heads to the kitchen in time for breakfast with the family.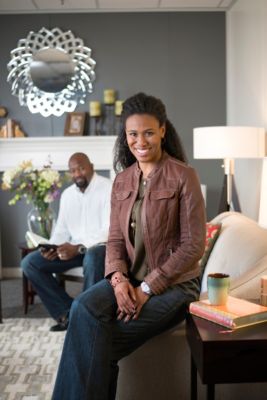 The Shirer's marriage is a partnership in every sense of the word. The two share household chores and childcare, as well as serving together in ministry. Jerry manages the day-to-day details of their Going Beyond Ministries: negotiating book contracts and answering speaking requests. This allows Priscilla the freedom to be a wife and mom first.
Over breakfast, Priscilla reads a Bible verse and the family discusses what it means. If there's no time for a devotion, she prays a blessing over the three boys. She realizes she isn't the only mom who struggles with the spiritual instruction of children and encourages moms to let go of their guilt. "Who can have a formal sit-down devotion with a 9-, 8-, and a 2-year-old? Do what you can, and make sure the Word is getting into them somehow. Then let the Holy Spirit take care of the rest."
Once the kids are busy at school, the dynamic speaker and Bible study teacher spends her day writing, studying, and handling tasks at home. During the afternoons, Priscilla and Jerry help their sons with homework, shuttle them to sports practice, and cook dinner.
Sharing a Ministry
At home Priscilla's an ordinary mom, but place a Bible in her hands, stand her in front of a group of women, and she's a rock star. Bible teaching is part of Priscilla's DNA; she's the daughter of Tony Evans, pastor of Oak Cliff Bible Church, a mega church in Dallas. She's been in ministry for more than a decade; guiding thousands of women through the study of Scripture in her books, videos, conferences, and twice-weekly web show "The Chat with Priscilla." Her book The Resolution for Women (B&H Publishers) was a New York Times bestseller. Thousands flock to her conferences, and even more huddle in classrooms and living rooms as they dig into her Bible studies.
Priscilla met Jerry when she was working as a motivational speaker with the Zig Ziglar Corporation. She'd been invited to address the corporate team of Dallas-based Hilton Hotels where Jerry was vice president of international operations. One of Jerry's co-workers suggested he ask Priscilla out. He knew who she was — and balked. After all, she was his pastor's daughter. Eventually, he summoned the courage to call her. He had one simple question: "Do you have time for a man in your life?"
"I was 40. I didn't have time to play games," Jerry teases.
"No, you were not," says Priscilla, setting the record straight. "You were only 28 when we met." Just a month after they met, Jerry asked Priscilla's father for permission to date her. Eleven months later, he returned and asked his blessing to propose. They've been married 14 years. Much of that time they've been serving together in ministry.
Priscilla says they're fortunate because she knows a lot of couples who can't work together. "God has given Jerry and me different skill sets," says Priscilla. She's comfortable on stage; he's not. He's great with details. Her? Not so much.
Priscilla credits Jerry for the vision and scope of Going Beyond Ministries. "Our ministry wouldn't be what it is without Jerry at the helm. I certainly would have never done any video-driven Bible studies had Jerry not encouraged me to do that. "Part of the joy of ministry is seeing how the Lord has wired us to fit well together," she says.
Being a Family
That's not to say there aren't challenges. One of the biggest is that they're both driven people, just not always on the same things.
"My name is Jerry Shirer, and I'm a workaholic," Jerry admits. "I could be in the office 16 hours and love it. But God has a sense of humor, and He gives me two hours because of the dynamics of our lives."
Jerry says he told Priscilla once that he wished she'd never written Life Interrupted (B&H) because ever since she wrote it, their lives have been interrupted every day. "If it were up to me, we'd be somewhere different every week because I'm driven that way," says Jerry. "But she's driven to stay at home with the kids."
"I'm an ambitious person, but not a work-driven person," explains Priscilla. "I don't need to speak to bigger crowds or sell more books or immediately jump on the next project. I'm not driven that way at all."
Priscilla says they tend to balance each other. Jerry motivates her to stay connected with the vision of the ministry and keep moving forward, and she motivates him to remember that work isn't at the top of the chain of life.
To make sure life and work stay balanced, Priscilla and Jerry have set clear boundaries for ministry projects. Priscilla receives around 300 invitations a year to speak; they select about 20.
"A no to a project or speaking engagement is a simultaneous yes to my kids," says Priscilla. "It means I'm able to be at home baking bread with the kids, helping them with their homework, and going fishing at the pond."
Jerry says they choose projects based on relationships they want to grow. "Our resources are in our relationships."
When it comes to relationships, the one they work on the most is their own. "We try to do a date night or get away together for a few days," says Jerry. "And we put the kids to bed early, so we can have time for each other."
They've also learned to value each other. Early in their marriage, Priscilla strived to cook well and take care of the house because she thought that's what a good wife did. But she couldn't keep up with Jerry, who because he grew up with a single mom, learned to cook, clean, and iron at age 10.
"He could clean better than me. He cooked better than me. He was making beds with hospital corners. All those things I thought would make me valuable as a wife, he does better," says Priscilla. To show Priscilla he values her, Jerry stopped refolding the laundry she'd already folded. When she cooks, he compliments her. "I think we're learning to give each other a break," she continues, "that should be a motto in marriage."
This article is courtsey of HomeLife magazine.