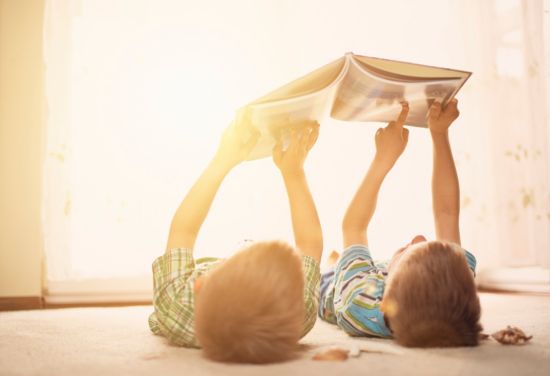 No parent wants to force their child to read during the summer, right? So we created a summer reading "road trip" that is fun, engaging and easy for everyone involved. During this journey, kids will read books, learn about God's Word and memorize Scripture. And parents will get to watch their kid grow and follow the progress in a free journal provided by LifeWay.
There are perks too! When the summer is over, readers can bring their completed journal to any local LifeWay store in exchange for a free book and Bible.
Here's how to get started.
Step 1. Download and preview the free journal roadmap.
From June 1 - August 31, kids will read six books and memorize six Bible verses. The goal of the summer reading road trip is to help kids discover more about God and His Word. In the journal roadmap, they will memorize Scripture, answer questions about Scripture and learn more through fun activities and challenges.
Recommended Supplies:
Bible
A pen or pencil
Crayons or color pencils
Step 2. Preview our list of recommended books.
Kids can read any six books of their choosing between June 1 - August 31, but we've provided a recommended list to help them get started. Each book on the LifeWay approved list is 40% off.
Step 3. Pick up your free supplies at any LifeWay store.
On May 27 - 30, parents and kids are invited to an official kickoff party at any local LifeWay store. It's going to be a one-stop celebration where kids can pick up a summer reading journal, bookmark and pencils, all free of charge. (Pencils are exclusive to the kick off party, but other supplies can be picked up at any store after the kick off party as well as throughout the summer.)
Step 4. Preview the prizes.
Once your kid has read six books, bring the completed reading journal into your local LifeWay store and take it to the register. From there, you can choose from one of six books as well as a free Bible, while supplies last.
Be sure to come in by Aug. 31, 2016, to return your journal and receive your prizes.

Step 5. Tell us about the journey.
We'd like to know about your kid's summer reading.
Did they have fun?
Did they learn something new?
What about their Scripture memorization?
How are you seeing your kid grow?
Connect with us by using #LifeWayREADS on social media. You can also stay up-to-date on all new information by visiting the official page.
---
More Articles Recommended for You

What this taught me is that just because I know the hottest new phrases, it doesn't mean I should use them. But most importantly, it brought to mind the ever-present responsibility of clear communication.
Many years ago, I remember a parent waiting for me in my office with a tear-stained face and a hollow stare. As I began to step into the situation, her eyes looked down at something she had in her hand.
One day, I had a son who would jump in the car after school and tell me what he had for lunch, who he played soccer with, and how the bus driver forgot to drop off the kid down the road. The next day, when he hopped in my car, it felt like I got nothing—no details, no information.