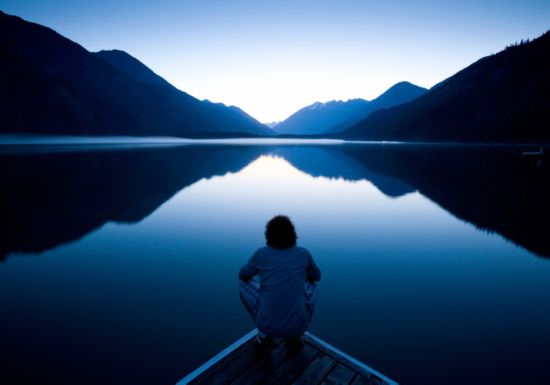 His name was Jeremiah Lanphier.
The date was September 23, 1857. The location was New York City.
For days, Lanphier had been handing out flyers about a time of prayer. He likely distributed more than 20,000 flyers by himself.
He was a man under God's conviction. He was desperate for a move of God, and he knew no human-powered system or organization could manufacture such a move.
So he prayed.
And he called others to prayer, as well.

An Unexpected Following
Lanphier probably had great anticipation that many would show up at noon on September 27. The city had a population of 1 million. His flyers were likely seen by more than the original 20,000 recipients of the flyers.
So he went to the borrowed upper room of a church and prayed and waited. For 30 minutes no one showed up. Then he heard the footsteps of a few coming to the prayer meeting. Six other people joined him.
Their numbers increased to 14 the next week. Then 23 the next week. And the prayer meetings continued to grow.

How 6 People Became 1 Million
The presence of God was so powerful. Those who were in the meetings decided to have the gatherings every day. And the numbers continued to increase. By winter of 1857, the prayer meetings were filling three large churches every day. Then, by March of 1858, every available public hall and church in New York City was filled every day.
The prayer movement spread across the nation. At one season of this movement, 10 thousand people were becoming believers each week. More than one scholar has estimated that 1 million people became followers of Christ through these prayer meetings.
A movement had begun. Today, I am praying for another movement of God.

A Movement Where People Say, "I Will"
I am concerned about our churches. I am not alone.
I will not bore you with statistics about the state of American congregations. Suffice it to say, it is not a pretty picture.
The problem is not the institutional church. The problem is not denominations. The problem is me. And you.
Denominations are no stronger than their churches. And churches are no stronger than their church members. I am a church member. The problem begins with me and with you.

It Is Time to Start the Movement
Jeremiah Lanphier was just one person, just like you and me. He knew he could not create a movement. His role was to petition to God for Him to move. His role was to be willing. To be willing to say, "I will."
It is time to stop placing the blame elsewhere. It is time to look into the mirror and ask God where we can say, "I will."
We are members of our respective churches. We are responsible. Is it possible, through us, God will start a movement?

8 "I Will" Phrases that Will Change Your Life
While we cannot manufacture a movement, we can do what Jeremiah Lanphier did. He was obedient. It is that simple and that profound. He was obedient.
It is time to become those types of obedient church members in our congregations. It is time to take 1 Corinthians 12 seriously and be a vital part of the body of Christ.
It is time to say, "I will."
I will have the attitude of Christ and put other church members before my wants and desires.
I will gladly participate in corporate worship with my fellow church members as long as I am physically able.
I will get involved in a group or a class so that I might grow spiritually together with others, and so that I might be accountable to them.
I will go and share the gospel with others in words and deeds, and not be ashamed of my Savior.
I will give abundantly and joyfully, recognizing that God is the owner of all things I currently steward.
I will participate in the life of my church because God leads me to do so, not because I feel compelled to please people and overcommit.
I will focus on what Christ has done for me, and not on the flaws of my church, its leaders or its members.
I will pray that God will use me as an instrument to revive His church, for His name and for His glory.

My Personal "I Will" Story After a Tragedy
A few years ago, I found myself in the hospital waiting room with my wife and the parents of my daughter-in-law. We had been told that it did not look good, but I prayed for a miracle.
When my son, Jess, came into the room, I knew. He did not speak a word. But I knew.
His son, Will, had died. My grandson was with the Lord.
Jess fell on my shoulders. We both began to cry.
How does a dad console his son who just lost a son? What words could I possibly say to comfort him? My words were broken and soft, but I spoke, "Jess, what can I do for you?"
Jess spoke.
They are words that are etched into my memory for as long as I live.
"Dad, please pray that God will use Will's life and death to bring glory to His name wherever I go."
That was it. His request was not about him. It was not about his needs and his wants. It was about using a tragic event to bring glory to God.
My response was simple: "I will."

It Is Time: "I Will Make a Difference"
It is time for church members to become a part of a movement where self is sacrificed and the body of Christ is strengthened. It is time to seek to bring glory to God through His church. It is time for a revival of the hearts of church members.
So, beginning this moment, become the type of church member who will be used by God to be an instrument of a movement of revival in our churches. Listen to Him carefully. Follow Him obediently.
And when He speaks to move us to action, be willing to say without reservation or hesitation: I will make a difference.
Excerpt taken from I Will, by Thom S. Rainer. © Thom S. Rainer. I Will is published by B&H Publishing. All rights reserved.
---
Learn More About Thom Rainer's Book
Every day we are faced with the needs of those around us. Emotional. Physical. Spiritual. What are we to do about it? Are these problems for our pastors to address or is there a way for the church member to make an impact that will last?
In I Will, bestselling author Thom S. Rainer answers these questions by offering nine simple traits that all church members can incorporate into your life no matter your background, stage of life or sense of capability.