"Compromise" can be a dangerous word.
But there are some things that parents should never negotiate or settle on. Here are three that are common to us all.
1. Roles.
One time my son Brodie and I were sitting around talking and he looked at me and said:
"Well, Dude, what do you think?"
"Whoa! Whoa! Time out," I said. "I'm not your dude. I'm not your buddy. I'm your dad. Don't you ever call me dude again."
And he never did.
I know some parents who would think that it's cool that they are such good friends with their children and that they call each other by their first names or names such as dude. But between a parent and child, there is a boundary of respect that does not need to be waivered or breached.
We should never compromise our role as a parent to be a best friend, buddy or dude.
2. Respect.
Let's get back to the simplicity of "Yes, sir," "No, sir," "Yes, ma'am," "No, ma'am," "Thank you," and "Please." If we allow our children to skip those simple addresses of respect, we do them a disservice.
Sure, ignoring it and moving on would be easier. But doing it the hard way—in a way that will better prepare them for life—is to say, "If you talk to your mama like that again, then you are going to park your car for a week. I will not allow you to disrespect your mother." Then you have to follow through.
We have to be good examples to our children. Parents who are disrespectful to each other and then hold their children accountable for being respectful send a mixed message. The child will follow the example, not the words.
3. Family.
The economy has been difficult. Times are hard; people are losing jobs and not finding replacements. Those of us who have jobs are working harder than ever to keep them.
But that can't be our excuse.
Do we bring that work home with us? It is easy to justify a compromise on our family time because work demands it. Yet we cannot afford to get caught in that trap.
Who of us wants our children to be afraid to interrupt our time on the computer in the evening because we have work to get done? They have to know that they are the priority in our lives, and we have to live like they are.
This post is excerpted from The Two-Minute Drill to Manhood_, by John Croyle. Copyright 2013 B&H Publishing Group. Courtesy of_ Parenting Teens magazine.
Learn More About John Croyle's Book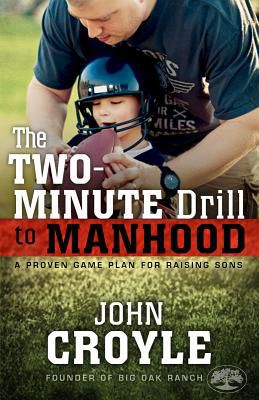 The Two-Minute Drill to Manhood is a faith-based game plan that will help moms and dads make sure their sons are ready for authentic manhood. Based on John Croyle's life and experience counseling more than 1,800 troubled, abused and neglected children at a camp (as well as parenting his two biological children), he drills down into seven actionable life principles drawn from the word "manhood" itself.