Item#: 005841845
When You Pray - Bible Study eBook with Video Access
:
A Study of Six Prayers in the Bible
Frequently bought together
This item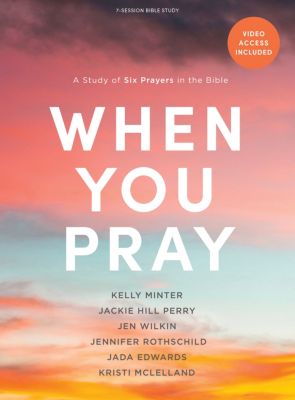 When You Pray - Bible Study eBook with Video Access
About this Item
Overview
In this 7-session study, join with six beloved Bible teachers who will help you study prayers in the Bible that can inspire your own. You'll learn that God welcomes your praise and lament, your thanksgiving and intercession. You'll see examples of how to pray when you're alone and when you're gathered with others. Above all, you'll notice there's no one right way to pray. As you draw near to God through prayer, you'll find your faith strengthened and your heart united to Christ.

Lifeway eBooks can be read on your computer, smartphone, or tablet at read.lifeway.com. Simply sign in using the email address and password that were used to purchase your eBook to find it in your library.
Features:
Leader helps for group discussion
6 weeks of personal study to be completed between 7 group sessions
Teaching videos, approximately 25-40 minutes, via redemption code printed in the Bible study book
Benefits:
Explore the different types of prayer modeled in Scripture.
Understand how prayer unites believers to God and to one another.
Learn how to overcome struggles that keep you from talking to God.
Video Sessions:
Session One: Introduction (22:01)—What is the purpose of prayer? Why, and better yet how, do I pray? How can God's Word shape the words we say back to Him? Listen in as our team of Bible teachers give their thoughts on these common questions, share their personal prayer experiences and struggles, and encourage you to join God in the never-ending conversation He longs to have with you.
Session Two: "Your Kingdom Come" with Kelly Minter (36:02)—In this teaching video, Kelly Minter uses the backdrop of the Lord's Prayer in Matthew 6 and more of Jesus's teaching in the Sermon on the Mount to remind us about the character of God the Father, the One we talk to when we pray. From Jesus's own words, we learn that God is personal, powerful, responsive, and altogether good.
Session Three: "My Heart Rejoices in the Lord" with Jackie Hill Perry (36:57)—Petition, or presenting our requests to God, is one of the most popular types of prayers. Through her verse-by-verse study of Hannah's prayers in 1 Samuel 1 and 2, Jackie Hill Perry helps us understand that God desires to hear our requests, and thanks to Jesus, we are able to bring them before Him.
Session Four: "Your Works Are Wondrous" with Jen Wilkin (43:23)—Another type of prayer we see modeled frequently in the Bible is adoration, or praise. A great example of this is David's prayer in Psalm 139. Jen Wilkin's verse-by-verse teaching through this psalm highlights the attributes, or character traits, of God that David included in his psalm of praise. David's words serve as a great example for us of how we, too, can praise God through prayer.
Session Five: "How Long, O Lord?" with Jennifer Rothschild (37:57)—We often want to avoid prayers of grief or lament because we may think God doesn't have time for our tears, or perhaps our needs are too tiny, or maybe we are afraid to feel what we can't fix so we stuff. Using the words of Psalm 13 as her guide, Jennifer Rothschild teaches that lament is a safe place for you to feel your feelings, and it is a sacred place where God reveals who He is.
Session Six: "May You Be Filled" with Jada Edwards (35:41)—In this teaching session, Jada Edwards examines one of Paul's many prayers as an example of intercession, or praying for the needs of others. Prayer is not only about praying on our behalf. When we pray for others, we partner with God to bring His plans to pass in the lives of others.
Session Seven: "May They Be One" with Kristi McLelland (35:35)—The final example of prayer in this study is Jesus's prayer for oneness, or unity, among His disciples, from the Gospel of John. Kristi McLelland examines the historical and cultural context of this time in Jesus's ministry to help us understand the power of His prayer for oneness in the lives of His disciples then and in our lives as His disciples today.
Shop All "When You Pray"
Specifications
Age Minimum

18

Dimension - Length

9.5

Language

English

Medium Format

eBook

Number of Pages

208

Product Group

Bible Study

Product Type

Study Guide

Publication Date

2023-04-03

Publisher

Lifeway Christian Resources

ISBN10

1087783135

ISBN13

9781087783130