Item#: 005793775
Sunday School Matters - Group Video Bundle
Frequently bought together
This item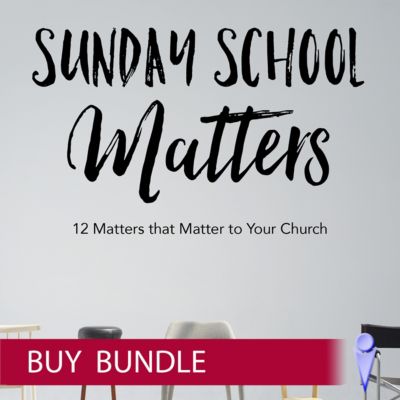 Sunday School Matters - Group Video Bundle
About this Item
Overview
Sunday School Matters: 12 Matters that Matter to Your Church, edited by Allan Taylor
(Download purchase)

Sunday School Matters: 12 Matters that Matter to Your Church, edited by Allan Taylor—Video Bundle (for group viewing)
You'll get results for your church's Sunday School ministry when you use Sunday School Matters videos with the Sunday School Matters Study Guide! Process tips from outstanding national Sunday School leaders as they offer their vision and leadership points on teaching, organizational structure, and ministry training. Each of their 12 video presentations is included in this bundle as well as found on DVDs in the Sunday School Matters Leader Kit. These 12 insightful videos, when used in conjunction with the combination viewer and study guides, bring high-quality training to Sunday School leaders and workers. Plan a retreat, a conference, or weekly training sessions to hear from the outstanding leaders featured on these videos. Capture and apply what you learn from the videos with the help of the compact, helpful viewer and study guides. You'll finish the process with a viable plan to grow the quality and size of your Sunday School.

Session 1: Leadership Matters [31:40]
When you design your leadership, you design your ministry. Your leadership is the blueprint of the Sunday School ministry you're building. In the first session of Sunday School Matters, Lifeway's director of Church Education Ministry, Allan Taylor, explains why Sunday School shoulders a tremendous ministry load for your church and is the Great Commission arm of your church. Learning how your ministry can provide proper leadership will ensure that this work doesn't go undone.

Session 2: Vision Matters [25:19]
Sunday School expert David Francis explains that leadership is the most important factor in Sunday School and that vision is the most important aspect of leadership. Citing Acts 20:20 as advice from Paul that can be applied to Sunday School, David explains how an effective leader can rally people to work with energy and harmony to accomplish something significant in and through Sunday School ministry.

Session 3: Souls Matter [33:42]
Bob Mayfield of the Oklahoma Baptist Convention explains why evangelism is Sunday School's lost priority. Because bringing the lost to God was Jesus' primary ministry purpose, sharing the gospel with the lost is essential to obeying Christ's lordship and the main reason for making God's Word known and understood.

Session 4: Teaching Matters [30:54]
When a Sunday School class is actively engaged, Bible learners experience increased comprehension and retain more of the content presented. Professor Ken Coley helps Sunday School teachers assess and adjust their teaching to be more effective, to better guide their classes to focus on God's Word, and to strive for 100 percent engagement among their class members.

Session 5: Transformation Matters [20:18]
The reason we serve and minister is to see transformed lives. Lifeway vice president Eric Geiger explains how we can know whether someone's life is really being transformed. He defines transformation as seeing God change the longing of hearts and seeing those who study God's Word find that they hate the sins they once loved and enjoy pleasing God more.

Session 6: Curriculum Matters [32:08]
Bible study curriculum is the GPS guiding a church's journey in spiritual transformation. It sets the goal for what the church wants its members to know. Without curriculum your church is on a journey to nowhere. Education minister Dan Cook confirms that if you aim at nothing, you'll hit it every time. The same applies to the way you equip (or don't equip) your Sunday School with sound, insightful curriculum for studying God's Word.

Session 7: Ministry Matters [22:36]
One of the most basic, Christ-like tasks of the Sunday School is the opportunity to minister to one another in Christ's name. Christian educator Ben Pritchett shows Sunday School leaders that they already have a ministry list, the Sunday School classes' enrollment records. The next step is learning how to effectively care for those Sunday School members.

Session 8: Organization Matters [27:40]
For any model or concept of ministry to function successfully, the underlying architecture of the ministry's organization must be solid. As in building a home, a set of blueprints helps determine what, how, and where everything will be built. Minister of Christian education Eugene McCormick helps leaders address the imperative of defining, designing, and directing the structure of Sunday School Ministry.

Session 9: Assimilation Matters [20:06]
Lifeway CEO and research expert Thom Rainer can help leaders build on the fact the Sunday School is unrivaled in assimilating people into churches. Churches have many wonderful activities, but none of them, including corporate worship, are as effective in getting people to stick as Sunday School. Dr. Rainer flags the key ingredients of assimilation and leads viewers to determine the steps to attract and keep Sunday School attenders plugged in to your congregation.

Session 10: Growth Matters [30:39]
Growth isn't optional. The Great Commission compels believers to reach, teach, baptize, and multiply. Ministries pastor Carter Shotwell gives an eight-step strategy to grow Sunday School. Working to make as many disciples as possible obeys Christ's command, and a growing Sunday School is the most effective organization to accomplish this goal.

Session 11: New Groups Matter [25:41]
Where's the best place for relationships to develop in the church? The best place is smaller groups. Your Sunday School is the most effective place for people to connect, and new Sunday School groups provide an even more likely place for that to happen. Unlike a big group with a popular master teacher, in smaller groups, especially new groups, everyone starts on a more even footing and builds relationships together. Prominent Christian educator and trainer Bruce Raley details the why, what, and how of new groups that matter.

Session 12: Now Matters [32:57]
Lifeway's Church Education Ministry director, Allan Taylor, reminds Sunday School leaders and workers that now is all we've got. We can't recall yesterday. It's forever history, and tomorrow isn't promised. Action is key because you can't build a ministry on what you're going to do. Difficulty is what God excels at, so take faith and courage, trusting God to lead you to serve His purpose by building a strong Sunday School.
Specifications
Age Minimum

18

Language

English

Medium Format

Video Download

Number of Pages

64

Product Group

Bible Study

Product Type

Bible Study Accessory

Publication Date

2017-02-15

Publisher

Lifeway Christian Resources

ISBN10

1462747051

ISBN13

9781462747054

UPC

634337756783