Item#: 005532836
Radical - Video Session 1 - Buy
Frequently bought together
This item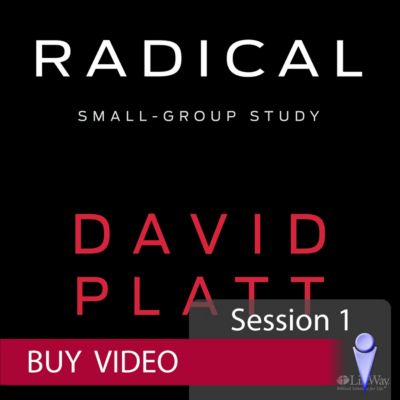 Radical - Video Session 1 - Buy
About this Item
Overview
Radical – Video Sessions (for individual viewing on your personal computer) featuring David Platt. All 6 of these video sessions are available to purchase as individual, downloadable sessions. This 6-session Bible study challenges you to consider with an open heart how we have manipulated a God-centered gospel to fit our human-centered preferences. Combining the messages of Radical and Radical Together, this resource will help you discover what could happen if the message of Radical were actually lived out.

These video sessions are most effective when used with the Radical Bible study book. Download any one or more of these sessions for personal use or for times you can't be at the group Bible study sessions.

Session 1: Radical Abandonment [35:10]
David Platt says Christianity doesn't consist of begrudging obedience to Christ but superior love and exclusive loyalty. This understanding changes our perspective and priorities for the Christian life. A disciple forsakes all relationships in favor of an intimate relationship with Jesus.

Session 2: Radical Grace [43:00]
David Platt examines the internal transformation that occurs when we become followers of Christ. Jesus is not merely a respectable teacher but the sovereign Lord who demands a radical approach, calls us to a radical affection, and gives us radical commands.

Session 3: Radical Focus [32:45]
David Platt asks whether we really believe what the Bible says about the church, the lost, and the poor. Belief in God's Word gives us a radical focus on God's priorities in the world and sends us out on mission.

Session 4: Radical Strategy [25:30]
David Platt explores two ingredients of radical compassion for the lost, challenges us to see the condition of the lost, and urges us to obey the commission of Christ by going to the lost.

Session 5: Radical Vision [46:00]
David Platt exhorts believers to respond to the needs of the poor with compassion and warns that those who indulge themselves and ignore the poor stand condemned before God. Platt explores biblically why caring for the poor is necessary evidence of salvation.

Session 6: Radical God [15:45]
David Platt challenges believers not to compare, for Jesus' life is our standard; not to despair, for Jesus' presence is our hope; to avoid apathy, for Jesus' words are our authority; and to avoid lethargy, for Jesus' glory is our goal. Radical Christian living is a fight, a race, a battle, and a war.
Shop All "Radical Small Group Study"
Specifications
Age Minimum

18

Dimension - Height

0.38

Dimension - Length

9.5

Dimension - Width

7

Language

English

Medium Format

Video Download

Number of Pages

144

Product Group

Bible Study

Product Type

Bible Study Accessory

Publication Date

2012-05-01

Publisher

Lifeway Christian Resources

UPC

634337317632