Item#: 005815376
Praying at the Crossroads - Video Session 1 - Buy
Frequently bought together
This item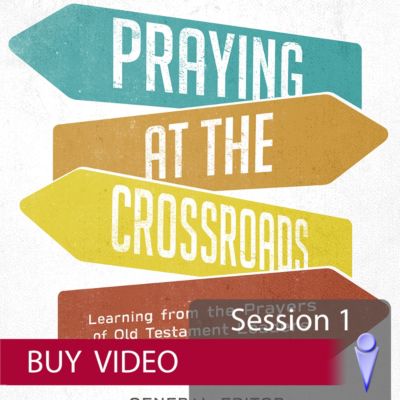 Praying at the Crossroads - Video Session 1 - Buy
About this Item
Overview
Praying at the Crossroads– Video Sessions (for individual viewing on your personal computer) featuring general editor Ken Coley and other contributors. All 12 of these video sessions are available to purchase as individual, downloadable sessions. This 12-session Bible study examines the prayers of Old Testament leaders at critical moments in their faith journeys. This study will strength your passion for prayer and give fresh insights into deepening your personal prayer life.

These video sessions are most effective when used with Praying at the Crossroads Bible study book. Download any one or more of these sessions for personal use or for times you can't be at the group Bible study sessions.

Session 1: The Prayer of Moses [12:28]
In this session Miguel Echevarria walks through Moses' prayer in Psalm 90 encouraging us to cry out to God who is forever faithful to us.

Session 2: The Prayer of Joshua [11:35]
In this session Chuck Lawless teaches on Joshua's prayer after the battle at Ai from Joshua chapter 7 where Joshua sought the Lord for direction and understanding. From this prayer we learn what it means to seek the Lord in our own moments of trouble.

Session 3: The Prayer of Deborah [11:36]
In this session Amy Whitfield examines Judges 4-5 and the prayer of Deborah as she encouraged Sisera for battle. Through her prayer we learn about the value of trust and leadership.

Session 4: The Prayer of Hannah [13:22]
In this session Sherry Blankenship considers the prayer of Hannah for a son in 1 Samuel 1. Through this prayer we see the comfort that comes when we boldly call out to God in the middle of our deepest hurts.

Session 5: The Prayer of Solomon [11:04]
In this session John Ewart teaches on 1 Kings 8 where Solomon dedicates the temple. Here we see a people celebrating their past and looking to the future through the lens of their great God.

Session 6: The Prayer of Joel [17:42]
In this session Chris Schofield teaches on Joel 2 where we see Joel's prayer of warning and call for revival. God's people should see themselves in this passage and return to their God for revival and restoration.

Session 7: The Prayer of Jehoshaphat­ [16:07]
In this session David Horner looks at 2 Chronicles 20:1-30. Confronted with an encroaching army, Jehoshaphat was driven to pray. In this prayer we see the heart of a leader who leads those under his care to call upon the Lord.

Session 8: The Prayer of Hezekiah [12:04]
In this session William T. Branch teaches on Hezekiah's prayer in 2 Kings 18-19. Hezekiah was faced with an Assyrian attach against Judah. At first, the king tried to make a deal with the Assyrian ruler. His failed attempt led to a heartfelt prayer. Through Hezekiah we learn to see prayer as a primary means of defense.

Session 9: The Prayer of Habakkuk [17:07]
In this session, Allan Moseley looks into the book of Habakkuk and examines the prophet's dialogue with God. Here we see that even when we do not understand our circumstances, we can turn to God, affirm His goodness, and trust in His faithfulness.

Session 10: The Prayer of Jonah [12:22]
In this session David Sims goes to Jonah 2 and examines the prophet's prayer from the belly of a great fish. Through this prayer we see the value that comes from entreating the Lord and seeking His face in our most difficult moments.

Session 11: The Prayer of Daniel [13:32]
In this session Danny Akin teaches on Daniel's prayer in Daniel 9. Daniel teaches us about the value of corporate confession and reliance upon God when we have fallen short of His standard.

Session 12: The Prayer of Nehemiah [14:41]
In this session Ken Coley looks at Nehemiah's prayer after learning about the crumbling walls in Jerusalem in Nehemiah 1. Nehemiah shows us the connection between passionate prayer and passionate actions.
Shop All "Praying at the Crossroads"
Specifications
Age Minimum

18

Language

English

Medium Format

Video Download

Product Group

Bible Study

Product Type

Bible Study Accessory

Publication Date

2019-03-18

Publisher

Lifeway Christian Resources

ISBN10

1535958758

ISBN13

9781535958752

UPC

634337913865