Item#: 005841725
Matchless - Video Streaming - Teen Group
Frequently bought together
This item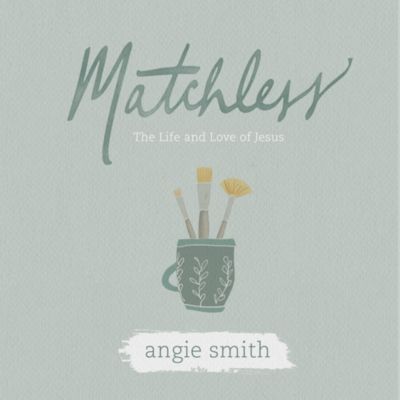 Matchless - Video Streaming - Teen Group
About this Item
Overview
Matchless: The Life and Love of Jesus - Video Streaming – Teen Group includes streaming access to 8 teaching sessions by Angie Smith for group viewing. This product includes 3 transferable licenses with perpetual video access for group leaders.*
Who is Jesus? Why did He come to earth? How can I know Him?
We live in a world where there's a lot of confusion about Jesus. Too often people want to shape Him and His message to fit their personal needs or agendas. So how can we know the truth?
Join Seamless author Angie Smith in this 8-session search for truth as she unfolds the story of our matchless Savior—His mission, miracles, and message. Whether you've walked with Him for years or are meeting Him for the first time, this study will deepen your understanding of Jesus through biblical, historical, and cultural insight and help you see Him less as an iconic figure and more as an intimate friend.
Video Sessions
Session 1: Past: Looking Back, Looking Forward (9:47)—Author Angie Smith introduces the Bible study and challenges us with the question that drives the study and one all of us have to answer: Who is Jesus?
Session 2: Preface: The Early Years (9:45)—Angie reminds us in the Session 2 video that Jesus didn't show up as a grown man with all the answers, but came as a baby, grew as a boy, and spent many years just living life so He could identify with us. What a Savior!
Session 3: Presence: Starting His Ministry (10:33)—It seems that there were always crowds of people around Jesus. But in the Session 3 video, Angie tells the story of Jesus' powerful work in the lives of two daughters to show how that even in the midst of the crowd, He found the individual.
Session 4: Purpose: The Teacher (8:15)—In Session 4, Angie explains that Jesus didn't teach to impart knowledge, but to show us how to love and relate to God. He didn't teach us to increase our intelligence, but to provide rest for our souls.
Session 5: Power: The Miracle Worker (17:00)—Angie points out in the Session 5 video that Jesus' purpose in doing miracles was not to put on a show or make a name for Himself, but to show His authority and to point people to Himself. And she emphasizes that His greatest work remains not making sick people well, but bringing dead people to life.
Session 6: Passion: The Suffering Savior (6:26)—Thomas said he had to have proof before he would believe in the resurrected Jesus. In Session 6, Angie says that many of us are like Thomas—we need proof to believe. But like Thomas, once we realize who we are and who Jesus is, proof is no longer a requirement for belief.
Session 7: Promise: The Risen Lord (12:06)—Angie emphasizes in Session 7 that the ministry of Christ didn't end when He left the earth. It's now our responsibility, as the church, to continue to share the good news of the story of Jesus.
Session 8: Personal: A Choice to Make (8:13)—Angie closes the study in Session 8 with a final challenge to look deep at what we really believe about Jesus. She reminds us the most important thing is not knowing about Him, but knowing Him. Personally.
Promotional video and other free leader resources available for download at lifeway.com/matchless
This Video Streaming - Group option can be viewed by a group of any size. These videos cannot be copied or shared.
*Video access will remain as long as this study is in print.
Shop All "Matchless"
Specifications
Age Minimum

12

Language

English

Medium Format

Video

Product Group

Bible Study

Product Type

Leader/Facilitator Guide

Publication Date

2022-06-23

Publisher

Lifeway Christian Resources

UPC

081407457444

Age Max

18