Item#: 005841488
James - Video Streaming - Teen Group
Frequently bought together
This item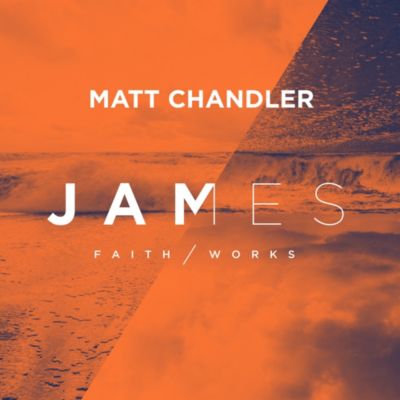 James - Video Streaming - Teen Group
About this Item
Overview
James: Faith/Works - Video Streaming - Teen Group includes streaming access to 13 teaching sessions by Matt Chandler for group viewing. This product includes 3 transferable licenses with perpetual video access for group leaders.*
Are you living a faithful life?
 
We don't work to be saved; we work because we are saved. But without faith, our works are empty service. And without works our faith is dead. This dynamic relationship is the heart of this study of the Book of James.
 
Faith keeps us humble, not proud; directs us to bless, not to curse; and causes us to show mercy, not judgment. Faith leads us to true religion that extends itself in favor toward others. Faith inspires us to preach the good news to every tribe, tongue, and nation. Faith motivates us to worship our God for all eternity. This is the essential message of James: Faith works.

Video Sessions
Session 1: Brother/Servant (20:19)—Matt Chandler introduces us to the book of James and its author. James had an earthly relationship with Jesus, but his letter clarifies what the Christian life should look like for all believers.
Session 2: Trials/Temptations (22:05)—We encounter the first major theme of the book of James—How should we respond to trials as Christians?
Session 3: Hearer/Doer (19:13)—Guest Beau Hughes teaches on hearing and doing what God says. We don't passively hear the Word. Rather, action should always follow genuine heart change.
Session 4: Judgment/Mercy (20:06)—Matt Chandler teaches how believers should extend mercy rather than harsh judgment to others.
Session 5: Faith/Works (20:30)—Matt Chandler works through James's argument for why our actions and beliefs must line up with each other.
Session 6: Blessing/Curses (15:57)—Our words can be either a blessing or a curse to the people around us. Believers must learn to control their tongues and use their words for good.   
Session 7: False Wisdom/True Wisdom (21:33)—Matt Chandler teaches how everything hinges on whether the standard by which we live is true or false. We must examine every thought and deed by the Lord's truth, the Word, and no other standard.
Session 8: Worldliness/Godliness (21:13)—In this session Matt Chandler teaches how our passions and desires are at war within us. Humility, obedience, and repentance are the mark of godly people. 
Session 9: Arrogance/Humility (21:01)—Matt Chandler identifies three ways to pursue humility, as well as ways to test whether we're walking in arrogance.
Session 10: Oppressor/Laborer (23:01)—James warned the rich who oppressed and exploited the underprivileged that riches would amount to nothing in the end. Instead, the humble and righteous would prevail. 
Session 11: Suffering/Comfort (22:25)—Matt Chandler examines a biblical perspective on suffering. Believers are to endure suffering with patience and steadfastness, keeping their eyes on the Lord.
Session 12: Faithful/Faithless (25:20)—The prayers of the faithful are mighty. Believers should pray for one another in every circumstance—in sickness, health, suffering, and joy. 
Session 13: Wanderer/Restorer (19:29)—Matt Chandler talks about our responsibility to restore wanderers. As Christians, we must speak truth into other people's lives and guide them back to the truth when they wander. 
This Video Streaming - Group option can be viewed by a group of any size. These videos cannot be copied or shared.
*Video access will remain as long as this study is in print.
Shop All "James Bible Study"
Specifications
Age Minimum

12

Language

English

Medium Format

Video

Product Group

Bible Study

Product Type

Leader/Facilitator Guide

Publication Date

2022-06-09

Publisher

Lifeway Christian Resources

UPC

081407455402