Item#: 005771942
Hombre restaurado
Frequently bought together
This item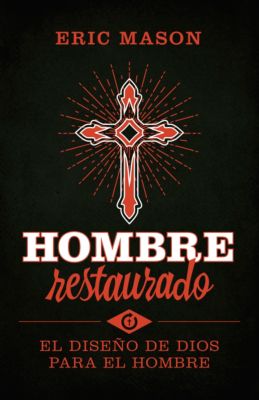 Hombre restaurado
About this Item
Overview
La crisis terrenal de la hombría seguirá su curso hasta que Jesús regrese. Sin embargo, en Cristo, el evangelio se señala a los hombres como la visión para renovarse. ¡Sé hombre!, en palabras de la nueva y apasionante voz pastoral de Eric Mason, combina una profundidad teológica con percepciones prácticas, para poner a los hombres en armonía con una hombría centrada en el evangelio y que enriquecerá cada aspecto de sus vidas.
Mason comienza abordando el alcance de la hombría. Así examina primeramente la razón porque Dios creó al hombre, las divinas diferencias entre el hombre y la mujer y lo que debe impulsar el propósito de un hombre durante su vida terrenal.
Una sección dedicada a los problemas de la hombría analiza los iconos falsos que conducen a las caricaturas culturales de los hombres —el hombre de negocios, el matón, el mujeriego, el atleta, etc. Luego Mason establece una asociación con la crisis intercultural de la paternidad, examinando así las cosas que hacen los hombres para llenar el vacío cuando no tienen una relación personal con su papá o Dios.
Por último, la redención de la hombría revela a Jesús como la verdadera norma de hombría bíblica, al observar su perfecto ejemplo para redimir y restaurar la vida de un hombre en las áreas de la sexualidad, el hogar y el trabajo.

The earthly crisis within manhood will be there until Jesus returns, but in Christ men are pointed toward the gospel as the vision for renewal. Manhood Restored by exciting new pastoral voice Eric Mason combines theological depth with practical insights, putting men in step with a gospel-centered manhood that will enrich every facet of their lives.
Mason begins with The Scope of Manhood -- looking first at why God created man, at the divine differences between man and woman, and what should drive the purpose of a man during his time on earth.
A section on The Problems in Manhood analyzes the false icons that lead to cultural caricatures of men -- the businessman, the thug, the playboy, the athlete, etc. Mason then makes a connection to the cross-cultural fatherhood crisis, looking at the things men do to fill the void when their relationship with dad or God is not there.
Finally, The Redemption of Manhood sets Jesus as the true standard of biblical manhood, looking to his perfect example to redeem and restore a man's life in the areas of sexuality, home, and work.

Specifications
Dimension - Length

8.5

Dimension - Width

5.5

Language

Spanish

Medium Format

eBook

Number of Pages

272

Product Group

Books

Product Type

Non-Fiction

Publication Date

2016-04-01

Publisher

B&H Publishing Group

ISBN10

1433689413

ISBN13

9781433689413