Item#: 005841985
He Speaks to Me - Bible Study Book + Streaming Video Access
Frequently bought together
This item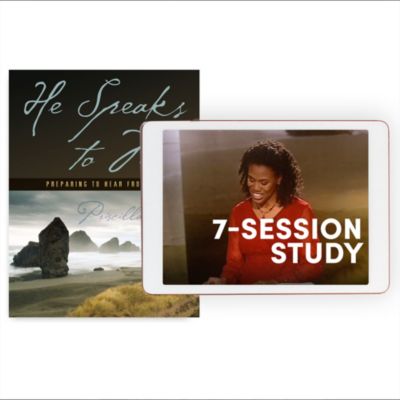 He Speaks to Me - Bible Study Book + Streaming Video Access
About this Item
Overview
He Speaks to Me Bible Study Book + Streaming Video Access includes the physical He Speaks to Me Bible study book and perpetual streaming access* to 7 teaching sessions by Priscilla Shirer.

Priscilla uses the account of God speaking to Samuel in 1 Samuel 3 to show how God speaks to Christians and how we can discern His voice and position ourselves to respond. Download any one or more of these segments for personal review or for times you can't be at the group Bible study sessions.

Video Sessions:
Session 1: A Simple Relationship (27:10)—Priscilla looks at 1 Samuel and Luke 18 and describes how we must come to God like a child if we want to be able to hear Him.
Session 2: A Single-Minded Worship (29:33)—Priscilla discusses undistracted worship — a second characteristic of those prepared to hear God. Participants will learn about the five "Pharaohs" that keep us from undistracted worship.
Session 3: A Set-Apart Holiness (27:00)—Priscilla encourages viewers to be "set apart" in this world. Lifestyle sanctification is the focus of this session.
Session 4: A Still Attentiveness (29:46)—Using the example of the feeding of the 5,000 in John 6, Priscilla examines the need to be still enough to listen to God. This session includes a music video of "Be Still" by Anthony Evans, Priscilla's brother.
Session 5: A Sold-Out Hunger (30:46)—Priscilla looks at the lives of Samuel (1 Samuel 3) and the blind man (Luke 18) who both knew the power of getting as close as possible to the manifest presence of God. This segment explains what the manifest presence of God is in our lives and how to draw close to Him as Samuel did.
Session 6: A Servant Spirit (26:20)—Participants look at the sixth characteristic that allowed Samuel to hear from God — a servant's heart. Using the example of Jesus in John 13, this lesson explores what one must do to be a true servant.
Session 7: Conclusion (15:38)—In this short session Priscilla concludes the study with some questions and discussion about what we do as a result of the truth we have heard.

The Bible Study Book + Streaming Video Access option is only meant to be viewed by the person who purchased it. These videos cannot be copied or shared. If you need videos to show in a small group study, please purchase the Video Streaming - Group option if available.

*Video access will remain as long as this study is in print.

Shop All "He Speaks to Me"
Specifications
Age Minimum

18

Language

English

Medium Format

Video

Product Group

Bible Study

Product Type

Study Guide

Publication Date

2022-06-23

Publisher

Lifeway Christian Resources

UPC

081407458892