Item#: 005841354
Gospel Above All - Video Streaming - Teen Group
Frequently bought together
This item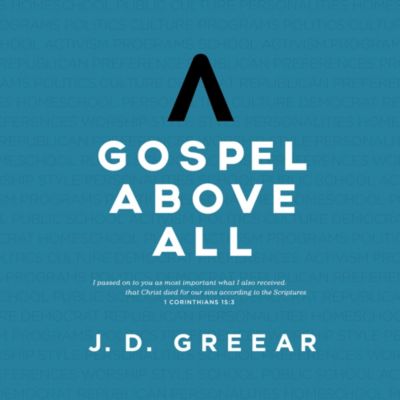 Gospel Above All - Video Streaming - Teen Group
About this Item
Overview
Gospel Above All - Video Streaming – Teen Group includes streaming access to 8 teaching sessions by J.D. Greear for group viewing. This product includes 3 transferable licenses with perpetual video access for group leaders.*
Is Christianity Dead? People may think Christianity is dying, but this pronouncement is a little premature. Jesus promised to build His church, declaring that the gates of hell wouldn't prevail against it. Along with this promise, Jesus gave clear instructions for how the church would overcome. He promised to build it on the rock of the gospel.

In this 8-session Bible study, author and pastor J.D. Greear examines what it means for believers to place the gospel above all other priorities in our lives and in our churches.
Videos Sessions
Session 1: Gospel Above All (9:35)—In this opening session, J.D. Greear looks at what it means for the gospel to be above all. We need to reinforce our identity as a gospel people. We do not find our unity in worship styles or in views on eschatology or in political positions. We find our unity in the gospel.
Session 2: Gospel Change (13:45)—J.D. sits down with Jen Wilkin to talk about what happens when the gospel takes hold of our lives. If we aren't careful, Christianity can become a list of things to do and not to do. The results of this will inevitably be spiritual frustration and weariness. Focusing on the gospel produces what religion cannot: a heart that desires God. Rooting our identity in the gospel produces freedom, joy, radical sacrifice, and audacious faith.
Session 3: Gospel Mission (16:48)—J.D. Greear talks with David Platt about being a multiplying Christian. God uses ordinary people to carry out his mission of multiplying disciples. Stephen wasn't an apostle; he was a regular guy with passion acting in the obedience that naturally pours from a transformed heart. To be a follower of Jesus is to be a disciple who is multiplying the gospel. We have no greater mission.
Session 4: Gospel Evangelism (19:33)—In this session, we will see that evangelism should be the primary focus of our lives and churches. Why are our churches not baptizing people or seeing people come to faith in Jesus Christ? We have lost evangelism as the central concern of our lives. Here we will examine evangelism as a way of life and through the lens of using our homes as a starting point for great commission ministry. For this session, J.D. Greear sits down with Greg Laurie and Rosaria Butterfield.
Session 5: Gospel Grace (17:32)—J.D. Greear talks with Vance Pittman and Rosaria Butterfield about how to embody grace. Antagonism toward Christianity is growing in our society, but this is no time to despair. The early church took the commission that Jesus had given them—to love their neighbors and take the gospel to them—and they turned the world upside-down. We must aim for the same paradox Jesus embodied in his ministry, "full of grace and truth" (John 1:17).
Session 6: Gospel Community (18:15)—In this session J.D. Greear talks with Walter Strickland and Vance Pittman about how the gospel calls us to embrace kingdom diversity. Our mission is not to reach only one kind of person, but all in our communities, which means we need to find its unity not in some cultural conformity but in the gospel that supersedes all cultures.
Session 7: Gospel Unity (15:05)—J.D. Greear talks with Albert Mohler and Kevin Smith about Christian political involvement. The cultural and political landscape changes at breakneck pace. Yet in his earthly ministry, Jesus was careful not to become involved in matters that did not directly pertain to his work and ministry. There is room in the church for people with different beliefs. Jesus had room in His inner circle for both a tax collector and a zealot. Above all, everything we do ought to be run through the filter of how well it helps us advance the Great Commission.
Session 8: Gospel Victory (11:27)—In Romans Paul said he was not ashamed of the gospel because it is "the power of God unto salvation," that in it the righteousness of God is revealed from faith to faith. The gospel is our banner and our rallying point. The most pressing need we have as Christians is to place the gospel above all. In this closing session J.D. Greear shows that if we faithfully confess the gospel, we will be unstoppable.
This Video Streaming - Group option can be viewed by a group of any size. These videos cannot be copied or shared.
*Video access will remain as long as this study is in print.
Shop All "Gospel Above All"
Specifications
Age Minimum

12

Language

English

Medium Format

Video

Product Group

Bible Study

Product Type

Leader/Facilitator Guide

Publication Date

2022-05-05

Publisher

Lifeway Christian Resources

UPC

081407453408