Frequently bought together
This item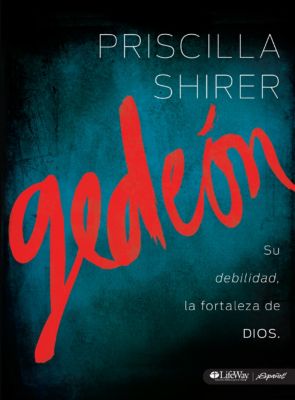 Gedeón
About this Item
Overview
La historia de la vida de Gedeón va más allá de la victoria de un ejército de 300 contra un enemigo numeroso. La vida de Gedeón es una muestra del amor de Dios para sus hijos ya que opera en ellos a pesar de sus debilidades. Aprenda en este estudio cómo las dudas, temores y debilidades pueden ser grandes oportunidades para experimentar el poder de Dios en su vida.
The story of Gideon's life is more than just 300 soldiers defeating a large army. Gideon's life is an example of God's love and how it operates in His people in spite of their weaknesses. Through this study learn how doubt, fear, and weakness can be great opportunities to experience the power of God in your life.
About the Author: Priscilla Shirer es una inspiradora maestra de la Biblia y autora de varios populares estudios bíblicos como ¿Podemos Hablar? y Jonás. Ella y su esposo Jerry son los fundadores del Ministerio "Going Beyond". Priscilla es la conferencista principal en los eventos de "Priscilla Shirer en Vivo" y varios eventos por todo el mundo. El deseo de Priscilla es que las personas por medio de las Escrituras pueden descubrir su verdadera identidad en Cristo.
Shop All "Gideon"
Specifications
Age Minimum

18

Binding

Paperback

Dimension - Height

0.4

Dimension - Length

9.45

Dimension - Width

7

Language

Spanish

Medium Format

Paperback

Number of Pages

192

Product Group

Bible Study

Product Type

Study Guide

Publication Date

2013-10-01

Publisher

Lifeway Christian Resources

ISBN10

1415878161

ISBN13

9781415878163