Item#: 005837055
Ephesians - Video Streaming - Teen Group
:
Your Identity In Christ
Frequently bought together
This item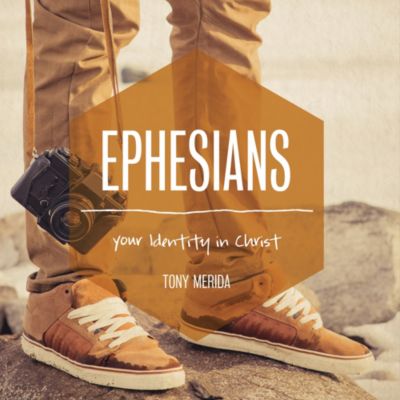 Ephesians - Video Streaming - Teen Group
About this Item
Overview
Ephesians: Your Identity in Christ - Video Streaming – Teen Group includes streaming access to 6 teaching sessions by Tony Merida for group viewing. This product includes 3 transferable licenses with perpetual video access for group leaders.*
Who God declared you to be is more powerful than who you feel you are.
In today's culture, students are told to find their identity in a number of things—grades, friends, popularity, sports, and the list goes on. Tony Merida leads students through the Book of Ephesians, taking a look at Paul's letter to discover six crucial truths about who they are in Christ.
Perhaps the most contemporary book in the New Testament, Ephesians offers practical answers to basic questions about the Christian life and our identity in Christ. This six-session study will help students better understand both the importance of finding identity in Christ and the relationship between our spiritual adoption and our daily lifestyle.
Video Sessions
Session 1: The Struggle in Ephesus (14:38)— Deep down we have a desire to do something significant and make a difference in the world. And there's nothing wrong with that desire. There's actually something God-honoring in it. The hero or heroine's story touches us deeply because God has wired us for significance. The deeper questions we all have to answer are about what defines who we are and where we'll find our significance. In this first session, Tony Merida will introduce us to the Book of Ephesians by starting where Paul started the letter: defining our identity.
Session 2: New Life in Christ (15:27)— In this week's video, Tony will walk us through Ephesians 2:1-10 as we dive deeper into who we were before Jesus, and the new life we are given through His death. We'll see how our identity is radically formed through the greatest gift we've ever been given.
Session 3: New Life in Community (13:59)— We've learned the truth that Jesus died to reconcile us to God, and this week we'll dive into the truth that Jesus died to reconcile us to others. As important as it is for us to live at peace with God (our vertical relationship), it's vital for us to live at peace with others (our horizontal relationships). If that challenges you already, then good!
Session 4: Pursuing Unity in Christ (17:44)— In Ephesians 2 we saw how God gives us new life in Christ, and then immediately following that, beginning in Ephesians 2:11, how our new identity leads us into a new community. Ephesians 4 teaches us about how we are to live in this new community called the church.
Session 5: Pursuing Holiness in Christ (16:13)— This week we will be talking through holiness and its implications for our daily lives. How do we pursue holiness? What should we do when we mess up? What kinds of behaviors and attitudes should mark God's people who are pursuing holiness?
Session 6: Be Strong in Christ (15:38)— In our final week of study, Tony walks through part of the final chapter of Ephesians, as we look together at the armor God provides for us to fight against unseen forces that wage a war against us. There is an all-out war against our holiness and against our identity. It's time to suit up.
This Video Streaming - Group option can be viewed by a group of any size. These videos cannot be copied or shared.
*Video access will remain as long as this study is in print.
Promotional video and other free leader resources available for download at lifeway.com/ephesians.
Shop All "Ephesians"
Specifications
Age Minimum

12

Language

English

Medium Format

Video

Product Group

Bible Study

Product Type

Leader/Facilitator Guide

Publication Date

2021-06-01

Publisher

Lifeway Christian Resources

UPC

840154552105

Age Max

18