Item#: 005840931
Discerning the Voice of God - Video Streaming - Group
Frequently bought together
This item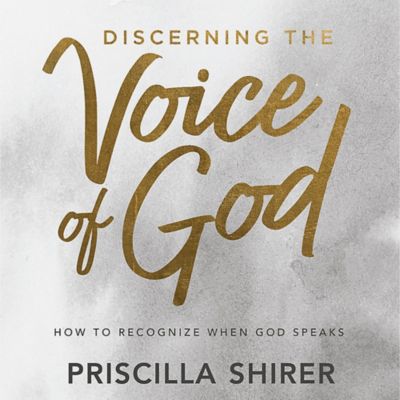 Discerning the Voice of God - Video Streaming - Group
About this Item
Overview
Discerning the Voice of God: How to Recognize When God Speaks - Video Streaming - Group includes perpetual streaming access to 7 teaching sessions by Priscilla Shirer for group viewing. This product includes 10 transferable licenses with perpetual video access for group leaders.*

Over seven sessions, in this revised and expanded Bible study, Priscilla Shirer reminds women that hearing God's voice comes from realizing what salvation does in our spirits and a commitment to humble obedience. Through this study you will become more familiar with God's Holy Spirit, His character, language, and tone of voice.

Video Sessions:
Session 1: A Proactive Stance of Obedience (48:05)—Though trends come and go, some things never change. God is eternal and timeless. We need to stay grounded and rooted in the truth of God and His Word. Jesus is still the only Mediator between God and man. Obedience to God still matters and is the only appropriate response to Him.
Session 2: The Holy Spirit (55:10)—Have you placed faith in Jesus Christ? God has sealed you with His Holy Spirit when you are in Christ. All authority, power, and grandure of God the Father is in His Holy Spirit and is in you when you place faith in Jesus. Walking in the Spirit is abundant living.
Session 3: The Holy Spirit's Voice (44:35)—Will we respond in obedience to God? The Holy Spirit is the Guide that will never leave you but often He guides you progressively. Keep doing what He has assigned for you today. Stay the path and listen for how He speaks to you personally.
Session 4: Reflective of His Heart (36:50)—Do we really want God? Sometimes when life is difficult we stop yearning for God. We lose the desire to just be with God. This session reminds us that God alone is the prize and we need to refocus our attention on our God and being in His presence.
Session 5: Revealing of His Plans (42:20)—When seasons of life are hard and challenging we need to trust God even more for His goodness, plans, and purposes to be fulfilled. But God can reach you in the dry place. Sometimes the most intimate time with God is when we are in the midst of difficulties. Expect God to move and that He will reveal Himself.
Session 6: A Continual State of Readiness (41:00)—Hearing the voice of God is the one thing that can change the course of your whole life. Relationship with Jesus Christ changes everything. John 10 reminds women of the relationship, the result, the reason, and the response of knowing and hearing God.
Session 7: Speak, Lord. (16:10)—In God's grace and mercy know that our mistakes often become the best teachers in our relationship with Him. Dare to ask God to speak to you through the power and authority of the Bible.

If you need videos to view on your own, we suggest purchasing the Video Streaming - Individual. This Video Streaming - Group option can be viewed by a group of any size. These videos cannot be copied or shared.

*Video access will remain as long as this study is in print.
Shop All "Discerning the Voice of God"
Specifications
Age Minimum

18

Language

English

Medium Format

Video

Product Group

Bible Study

Product Type

Bible Study Accessory

Publication Date

2022-04-21

Publisher

Lifeway Christian Resources

UPC

840154582881