Item#: 005818156
Difference Makers - Video Session 1 - Buy
Frequently bought together
This item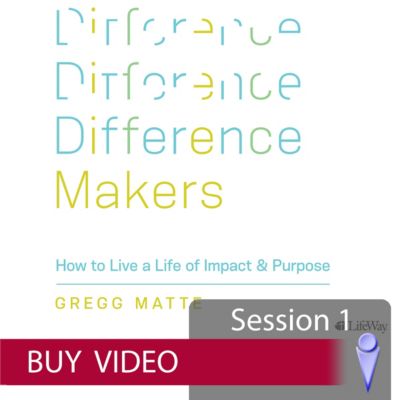 Difference Makers - Video Session 1 - Buy
About this Item
Overview
Difference Makers– Video Sessions (for individual viewing on your personal computer) featuring Pastor Gregg Matte. All 6 of these video sessions are available to purchase as individual, downloadable sessions. In this 6-session Bible study you'll see that You were made for more than watching. God has equipped all of us to make a meaningful difference in the world as He works in us and through us.

These video sessions are most effective when used with Difference Makers Bible study book. Download any one or more of these sessions for personal use or for times you can't be at the group Bible study sessions.

Session 1: The Definition of a Difference Maker [14:44]
All of us crave to make a difference in the world. All of us want to live with impact and purpose. Yet when we actually think about making a difference, few of us know where to begin. We allow uncertainty or insecurity to lead to inaction, but the Lord will give us everything we need to make a difference. However, before God is able to make a difference through us, He needs to make a difference in us. In this session Pastor Gregg Matte introduces us to the idea of what it means to be a difference maker.

Session 2: The Identity of a Difference Maker [13:18]
Everyone is looking for belonging and understanding. Everyone is trying to find their identity. Those are good and natural desires. However, problems arise went we try to find those answers in the wrong place. We were created to find our identity in God because we were made in His image. Unfortunately, that's the last place many of us look for identity. In this session Pastor Gregg Matte helps us see that who we believe we are defines the way we relate to the world. We'll consider the role of our identity in making a difference for the kingdom of God.

Session 3: The Purpose of a Difference Maker [14:58]
Each of us is significant in the kingdom of God because God loves to use one person. This session Pastor Gregg Matte focuses on the purpose of a difference maker. We begin to make a difference when we live out the purpose for which God has created us. This happens when we discover who God has made us to be and we connect that purpose to a need in the world.

Session 4: The Mission of a Difference Maker [14:25]
In this session, Pastor Gregg Matte leads us to consider the mission of a difference maker. Being used by God doesn't happen in isolated moments. We don't have to travel the world or meet needs after a natural disaster to be used on mission. God also calls us to invest our resources and go to places where needs exist in our everyday patterns of life.

Session 5: The Trials of a Difference Maker [14:02]
Following Jesus doesn't ensure that we'll have an easy, carefree life. On the contrary, seeking to make a difference sometimes places us in proximity to trials and hardship because those are the places where God gives us the opportunity to minister. This week Pastor Gregg Matte teaches how we can become more effective different makers by persevering in trials and hardships. We will see how God takes the difficult moments in our lives and turns them into meaningful ministry in service to Him.

Session 6: The Commitment of a Difference Maker [12:33]
You'll never make a difference by accident; you have to commit to it. But the way you live as a difference maker is might happen differently than you think. Commitment to difference making doesn't mean you do more; it actually means you do less. In this session Pastor Gregg Matte shows you we grow as a difference maker, you commit to trusting God more and doing less.
Shop All "Difference Makers"
Specifications
Age Minimum

18

Language

English

Medium Format

Video Download

Number of Pages

160

Product Group

Bible Study

Product Type

Study Guide

Publication Date

2019-05-15

Publisher

Lifeway Christian Resources

UPC

634337929477