Help Students Understand Sexual Purity
We live in a society that challenges us daily when it comes to tough topics related to sexuality, but God doesn't leave us to find the answers on our own. He shows us His design for sex, singleness, and marriage in His Word.
In Chasing Love, the newest Bible study from True Love Waits, Sean McDowell takes us through God's Word to answer some of our toughest questions about love, sex, gender, and relationships. He provides practical counsel on how we can embrace a life of purity by loving God and loving others with both our body and our soul. We'll learn how to show love to those living outside of God's design. And we will discover that God's love heals our wounds and His grace frees us from the shame and guilt of past sin.
If you have questions about launching a True Love Project study or True Love Waits program in your church, feel free to email us at truelovewaits@lifeway.com.  For questions regarding any of the products, call 1-800-458-2772.
Reintroducing True Love Waits
Twenty years ago a small group of students in the Nashville area committed themselves to Christ in the pursuit of purity. Little did they know that shortly thereafter there were going to be thousands of additional students join them in what came to be known as the movement of True Love Waits.
Over the years True Love Waits has witnessed hundreds of thousands of young people commit their sexual purity to God, while at the same time offering the promise of hope and restoration in Christ for all who have sinned sexually. It has been a tremendous movement, orchestrated by God, to further spread the biblical message of sex and purity to a younger generation.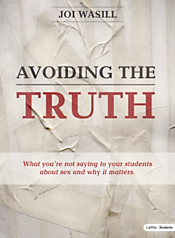 FREE E-Book - Avoiding the Truth
5 chapter eBook designed to give those involved with students, parents, and faith-based ministries the truth about where we are, how we got here, and a map for where we would like to be. The world has changed. Schools are changing. Communication is changing. But the truth found in God's Word never changes.