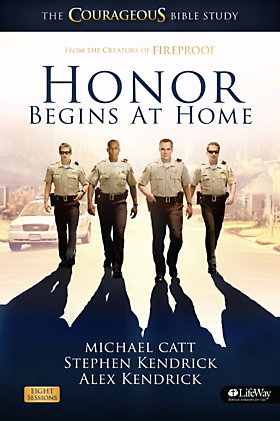 Honor Begins At Home Bible Study
This 8-session study will take individuals and small groups deeper into biblical truths for a godly family, exploring topics such as redeeming your history, walking with integrity, winning and blessing the hearts of your children, and more. Every session involves watching a clip from the movie Courageous to help group members engage in discussion. And daily readings from "The Resolution for Men" and "The Resolution for Women" will help you connect with God and His best plan for your family.
Shop Bible Study Resources
Leader Kit | Member Book | The Resolution for Men | The Resolution for Women

What Is A Site License?
When you buy a movie, you are entitled to use it for personal purposes, but it is illegal to share it publicly or with a large group of people without proper permission. That's where a Site License comes in. When you purchase a Site License for a movie, it allows your church to show that movie to your congregation legally. Site Licenses provided by LifeWay Films are good for up to a year, meaning you can show the movie as many times as you like. A Site License corresponds to a specific movie and is typically priced according to the size of the church.