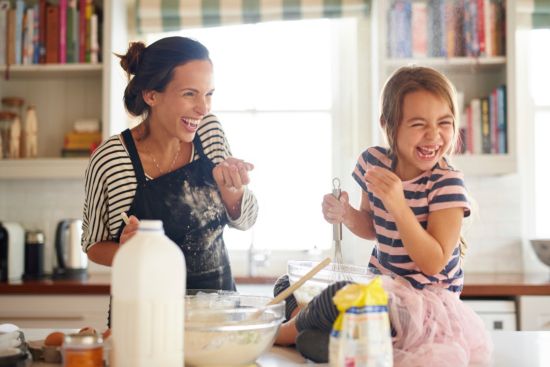 Scrolling through my Instagram® feed, I see a beautiful, spotless kitchen with a pottery vase (full of fresh-cut flowers) set on a wooden trivet. I glance up at my kitchen and see dishes, piled in the sink, on the counter and still on the table from last night's dinner.
The square full of smiling children wearing gorgeous coordinated outfits reminds me that the backup outfits in the diaper bag need to be replaced because, um, they were used as backup. That shot of a drool-worthy meal in a white bowl set on a white tablecloth puts my lunch to shame (which consisted of scraps snatched off my kids' plates).
And let's be honest—I have no white linens because nothing white stays white very long in my house.
Real Mom Confessions
If we scroll through Instagram, we can either feel small or embrace our real life.
But what if we shared pictures of our laundry mountains? Photos of dishes piled high? Our tear-streaked faces admitting that we just don't want to be Mom today? The unfiltered, everyday stories that, when shared, bring us closer to others because they reveal more of who we are?
A year ago, I began sharing these types of photos and stories, my #realmomconfessions, on Facebook® and Instagram. Other mamas joined in with their confessions. In sharing our stories, we were creating space for others to share the pieces of their stories that would otherwise go unspoken. We were finding freedom in our filter-less ordinary; joy in silliness and dust bunnies; contentment in expectations unmet; our mothering and our God.
I don't know about you, but I would much rather my life reflect its everyday beauty than be a fake, filtered, highlight reel. And that means once in a while I share a picture of my kids playing in the piles of clean laundry.
Shattering Perfection
When we bring our real into focus, giving it life and light, perfection—and the striving for it—shatters.
As we welcome and usher in summer, perfection has the chance to take over and bring stress into a season that could instead be full of joy. Trying to post and capture a perfect moment instead of living in it. Focusing on the pounds we haven't lost instead of throwing on our shorts to play with our kids. Completing a bucket-list of exhausting activities found on Pinterest®. Expecting excellent behavior from kids at evening graduation ceremonies and weddings. Coordinated outfits worn while posing for the camera. Pushing for a perfect summer.
We want smiles, but what we get instead are tears.
And the dropping of our hearts into our stomachs when we get "so close" to perfect can be a gateway for guilt. The moments we capture may not be Pinterest-perfect, but they're the real kind of good, and the guilt crawls in when we dare to be disappointed.
The seeking of perfection can suck the joy from our souls if we allow it space in our hearts.
Chase Perfection or Chase Holy?
Sisters, we have a choice to make.
We can strive to chase perfection, or we can choose to chase holy.
When they are grown, what will make our kids' hearts brim with joy as they recall their childhoods? Let's make these the events that take center stage in our social feeds, our lives, and our hearts. They won't remember if we were late to church. They won't remember the burned dinner or if the bathroom floors were squeaky clean. What they will remember is the warmth of their home, that we chose joy in our reactions, that we loved them more than we loved appearing perfect. Most of all, they'll remember how we made them feel.
Mamas, there's no shame in living our real life. This is where our most precious moments can be made! This is the everyday ordinary our kids will tuck away in the folds of their hearts, look back on with joy, and use to set the tone for the way they view their lives. We don't live in perfection. We live in the real life right where we are by His grace and deep love.
Let's decide today to go ahead and drop perfect. And let's chase holy instead.
Father, in this season of mothering amidst the veil of perfection, help me to be real with others and with myself. Help me focus on the things that matter deeply, eternally. Grant me patience and joy so I may make my family and friends feel loved despite—even because of—the things they'd rather not confess. This is the way You love me as I live my everyday, real, blessed life. Amen.
Courtesy of HomeLife magazine.