What prompted you to write a cookbook? How is this cookbook structured?
I backed into writing a cookbook, but it was more natural than accidental. For starters, I've always loved food, and I love the process of preparing ingredients and cooking meals. For me, the prize is the community that gathers around those meals.
When I wrote my first Bible study I invited a group of girls to help me test the material. In exchange for their feedback, I cooked for them, which wasn't necessarily a good deal for them at the time—pine nuts and oven mitts were a few of the things I burned. We discovered that cooking and eating together shaved off the edges of the day, readying us for meaningful and honest conversation. Setting the table was an act of preparation for both physical and spiritual nourishment.
This cookbook is structured by story and theme. Because cooking and sharing meals are communal by nature, I wanted to pull back the curtain on my own life and share those stories, relationships, adventures and mishaps with my reader. Each story introduces a section of recipes based on the story's theme. It's organized by theme rather than by type of food. (If you're the type of cook who needs to know where to find, for example, the desserts, chicken and fish or appetizers, we've got you covered in the appendix.)
How is this cookbook related to what you've written in the past? How was the process of writing similar? Different?
All of my Bible studies include recipes because eating together made our gatherings better. The enthusiastic response to those recipes is what prompted me to think seriously about writing a proper cookbook. So in that way, "A Place At The Table" is loosely related to my studies in that the idea was borne out of them.
The writing process for "A Place At The Table" was different for me because it was looser and lighter than the more academic process of writing a Bible study. I wasn't having to think about defending my work theologically, only making sure we were getting the measurements, oven temperatures, and ingredients correct! It was fun to bring more of my personal life into the picture, whether stories from my childhood or current ones about my travels to the Amazon jungle, my nieces and nephews, gardening adventures and the friendships that breathe life into it all. I also enjoyed being able to write about Jesus in the accessible and relatable format of a cookbook. I can't think of a more disarming and inviting setting.
What inspired your love for food, cooking, and hospitality?
Dinners, potlucks, and gatherings around food were foundational to the family and church setting I grew up in. For me, eating was often a social activity—a place to connect with others. My mom cooked all the time and, naturally, I wanted to be able to provide the same kind of experience for others that she provided for our family. The dinner table in our home was a mooring in which I always found a safe harbor.
Naturally, I've always wanted my kitchen and dinner table to provide the same kind of warm invitation where everyone knows they're welcome. By growing some of my own vegetables and herbs, tucking flowers from my cut garden into vases, cooking and serving meals, community happens in a nourishing and inviting setting. For me, this is the prize.
For me, eating was often a social activity—a place to connect with others. My mom cooked all the time and, naturally, I wanted to be able to provide the same kind of experience for others that she provided for our family. The dinner table in our home was a mooring in which I always found a safe harbor.

Kelly Minter
How did you connect with Regina Pinto and how did you work together on this project?
I initially met Regina at church. We later became dear friends on a mission trip we took to the Amazon jungle of Brazil with Justice & Mercy International. Regina grew up in the south of Brazil, a Portuguese speaker who translates on our trips. What I didn't realize at the time is that Regina is also a chef who owned her own chocolate and dessert company, sold her goods in some of the most prestigious restaurants and hotels in Nashville, studied in Italy, and owned her own catering company. She has technically retired, but she will never stop cooking. Plus, this project has pulled her out of any sense of retirement.
When I began thinking about "A Place At The Table," I had a vision for the look and feel, and I was excited to tell the stories. But I also knew I needed a bona fide chef to bring the expertise I lacked. I drove straight to Regina's house with a stack of cookbooks, marched into her living room, plopped them on her coffee table, and said, "You and I are going to write a cookbook together." Regina can stand up against any chef, but her heart for Christ and her love for people are what make the food she prepares a truly Christ-filled experience.
How did you go about choosing recipes? Which one is your favorite?
Regina and I spent countless hours culling through her recipes (she has hundreds she's stored through the years). I, on the other hand, brought a few favorites from my family and friends, but mostly I contributed by speaking into the types of recipes we used. For instance, I love Italian food so I would tell Regina the kinds of pasta or sauces I like and we'd talk about different ways we could present those dishes. I also love appetizers and tastings because they work so well in gatherings, so Regina put together some unique appetizers that are mostly easy to prepare while making a statement. Essentially, I would tell her what I wanted, she'd bring options to the table, and we'd narrow from there. Except for the dessert and Brazilian sections. These are Regina's specialty so I let her run wild with those.
I have a couple of favorites. Regina's Berry Trifle is my favorite dessert. I love how light and creamy it is, and the layers along with the colorful berries make a stunning presentation. It's an easy dish that makes a statement. I also never tire of the Summer Cherry Tomato and Basil Pasta (given below). It's simple, healthy and takes advantage of some of Summertime's best offerings.
What is your hope for this book?
I hope "A Place at The Table" will inspire people to take up the art of cooking again. In our fast-paced society, meals have turned into quick transactions of consuming something for fuel, rather than sharing a meal for nourishment and community. Most of us will say we don't have the time to cook, but can we really afford to lose our connection with God's creation of food, the gift of preparing it and the people who gather around our table? Hopefully this book will get us—or keep us—cooking, no matter how much or little experience we have.
If cooking leads to the nourishment of body and soul, my prayer is that "A Place at The Table" will also make Christ known as the ultimate source of that nourishment. He's the center of our fellowship and the Host behind every invitation to our tables.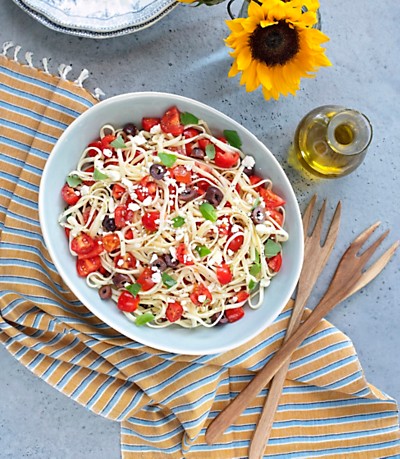 Summer Cherry Tomato and Basil Pasta
Prep Time: 15 Minutes | Cook Time: 30 Minutes | Serves: 4-6
Ingredients:
1 (12 ounce) package linguini pasta
Cherry tomatoes (1 pint), sliced in half (whole tomatoes, chopped will also work)
5 cloves garlic, minced
6 large basil leaves, chopped
3 tablespoons olive oil
½ teaspoon salt
1 (2 ¼ ounce) can olives, drained and sliced
1 cup Feta cheese, crumbled
Freshly ground pepper, to taste
Steps:
1. The above measurements are good starters, but feel free to add more or less to taste. Cook pasta according to package directions. (If you're really feeling inspired, make your own pasta. All you need is Semolina flour, eggs, and olive oil.)
2. While the pasta is boiling, combine tomatoes, and next three ingredients. Salt the mixture and let the tomatoes soak up the salt for a few minutes. This will bring out the flavor of the tomatoes. (If heirloom tomatoes are in season, they will work great.)
3. Drain pasta and place in a large bowl. Top with tomato mixture, olives, and Feta cheese, then toss all together. Pepper to taste.
Bestselling Lifeway Bible study author Kelly Minter is known not only for her passion for God's Word, but for her ability to foster community over an inviting, delicious, and nourishing meal. Her own lifelong love for cooking and gardening paired with her many travels to the Amazon with chef Regina Pinto has resulted in rich spiritual and culinary experiences that will inspire your cooking and gatherings.
More than an ordinary cookbook, A Place at the Table offers readers a chance to not only approach mealtimes with accessible recipes from a renowned chef, but also hear heartwarming, personal stories from Kelly herself and enjoy some spiritual encouragement too.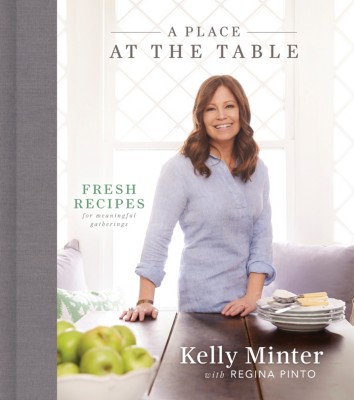 Learn more about A Place at the Table and open the door to meaningful gatherings and delicious food.