One thing I love about Scripture is that it isn't simply a feel-good story, edited with only the highlights and heroes. No. There's more than a little bit of suffering. And I'm glad to see the example in Scripture — to know I'm not the only one who goes through hard times. Because if we're not careful, we'll only see suffering as a punishment, as a rebuke from God because of our disobedience. That's what Job's friends tried to tell him. Remember the story: Job lost everything — children, livelihood, wealth, and eventually his health — and all of this with God's permission. As Job grieved, his friends Eliphaz, Bildad, and Zophar came to mourn with him and comfort him. In time they all offered their opinions about what had been happening in Job's life.
The three friends' speeches all feature basic assertions. First, they affirmed God is sovereignty, meaning God is in complete control. Second, they asserted God is just and good. Third, they argued that God blesses those who are good and punishes those who are disobedient. According to this reasoning, if a person experiences hardship or tragedy, he or she must have done something bad to prompt that kind of judgment.
While their assertions contained logic and truth, they failed to take into account God's complete character. They missed the full understanding of God's goodness and how He demonstrates His goodness toward His people. God's goodness or grace toward us is unmerited, meaning we don't deserve or earn it. He isn't kind toward us because we are worthy; He is kind to us because He is worthy.
"But God proves his own love for us in that while we were still sinners, Christ died for us."

Romans 5:8
This matters because if blessing isn't about us, then suffering isn't either. Granted, some suffering we endure is self-inflicted. It is the natural result of the harvest — we reap what we sow (Gal. 6:7). But that's not the suffering we're talking about here. We're talking about the kind of suffering we endure that has no explanation — suffering that, at times, can seem unfair. When we walk through those times, we need to remember, if blessings are meant to show us that He is worthy, suffering is meant to show us He is trustworthy. He will be with us. He will teach us. He will refine us — for our good and His glory.
Suffering has a higher purpose. It reveals something about God to the world. Job didn't suffer perfectly, but he did suffer well. When we suffer well — remaining steadfast, hopeful, faithful, and teachable — it is evidence to the world that God is more valuable and trustworthy than wealth, health, and even family. Perhaps suffering well means that we don't lash out at others in our difficulty. It may mean staying the course in a difficult job or consistently showing up to worship even amidst our pain.
The living of suffering isn't nearly as tidy as the teaching of it. Suffering is inevitable and hard, but it's not forever. And it's not hopeless.
Excerpted from We Over Me by Whitney Capps. Published by Lifeway Press®. © 2019. Used by permission.
If you've been part of the church long, you know that no one is perfect. It can even get to the point where you think that surely you can do without, right? But God uses His church to accomplish His plan and purpose, and He wants you in on it. Being part of God's plan for the church is a matter of choosing your brothers and sisters in Christ (we) over yourself (me).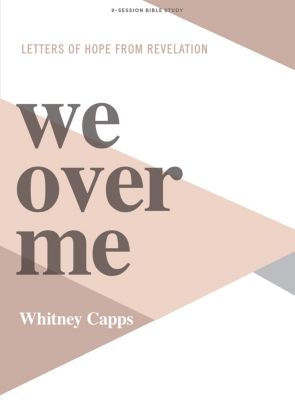 This 9-session Bible study on hope found in the letters of Revelation will help you learn how to set yourself and your past experiences aside, so you can embrace the role God has for you in helping the church fulfill its purpose.