InstaKey Lock System for Churches
Secure church facilities with cost-effective, efficient key control.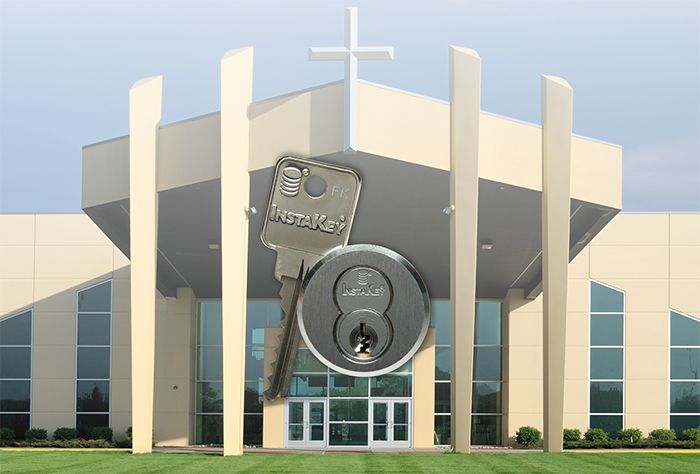 Do you know who has keys to access your church?
Instakey partners with churches to help them manage keyed access and keep everything organized including which keys exist, what they open, and who carries them.

Each of their keys are uniquely serialized, making it easy to track key serial numbers to key holders and access points, through their cloud-based key tracking software SecurityRecords.com®. You can choose to manage key control through their software or lean on their experts to help.
Lifeway Customers Save 20% off MSRP
Intakey's keys are restricted, which means they cannot be duplicated, so you can rest assured that five keys won't turn into six without your knowledge or authorization – enhancing church security. If someone changes their role within the church or moves away, getting the key back upon their departure makes it possible to simply reassign the key to another key holder without risking security and without the need to change the locks.If a key is not returned or if a key goes missing, there is no need to call a locksmith. Their unique key system allows administrators to change locks and regain control of security with just the turn of a key. An entire system can be rekeyed immediately and at a fraction of the cost of a locksmith's services.
Secure church exteriors, offices, classrooms, utility closets, outbuildings, and other spaces all on the same key system. Pastors, administrators, staff and other key holders can access the spaces they need access to with fewer keys to carry around, when you implement a master key system.  InstaKey can also provide fulfillment of non-InstaKey small format interchangeable core (SFIC) systems along with exit devices, cipher locks, door hardware and locksmith services. View the InstaKey Line Card.
Call 800.464.2799 now to receive additional information or complete the form below to schedule a phone call to discuss your needs.


Learn more about the Lifeway One Source program. View Catalog
Get updates and deals with the One Source Church Direct email newsletter. Sign Up