Church Bus Sales
The Bus Center

Since 1972, The Bus Center has worked to provide quality equipment at a fair price and to service that equipment better than anyone else in the bus industry. As Lifeway's exclusively endorsed bus dealer, we look forward to helping you find the perfect Church Bus for your ministry. Then after the sale, our service and parts departments will help keep your bus on the road for years to come.
We offer world class service grounded in traditional values.We have three locations to serve you, and our goal is to provide customers with not only the best bus, but the best possible post-sales service as well. Our service departments offer repairs from brake and body work to wheelchair lift maintenance to custom paint, logos and lettering. Our full-time warranty administrators work closely with parts and service to have repairs completed quickly and efficiently.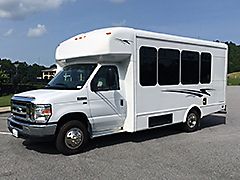 Small Buses
Small buses seat 15 passengers or fewer, including the driver. Typically no Commercial Driver's License (CDL) is needed to drive a small bus. We stock small buses with a variety of features. They are available with wheelchair lifts and tie-downs. Small buses are typically built on a Ford or Chevrolet Chassis.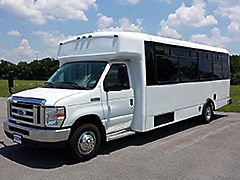 Mid-Size Buses
Mid-Size buses do require a CDL. They range from 16 passengers to 26 passengers including the driver. Paratransit options are also available for medium buses. They are available on the Ford or Chevrolet Chassis.
Large Buses
Large buses can seat 27 or more passengers and can be built on a Ford, Chevrolet or Freightliner chassis. Large buses are perfect for congregations who need to move large groups of people. Paratransit, storage and even restroom options are available for order.

Optional Bus Features
TV/DVD packages

Custom lettering or Specialized Graphics

Overhead Luggage Storage

Rear Luggage Storage

USB & 12V Charging Stations

Strong Air Conditioning Systems with Dual Compressors
Answers to your bus buying questions:
1. What are the different sizes of buses?
Small Buses: up to 15 passengers**

Mid-size Buses: 16 to 26 passengers

Large Buses: 27 to 48 passengers

Paratransit Buses: 12 or more passengers + wheelchair positions

Multi-fuction School Activity Buses: 15 to 20 children
Used buses are also available.
**Buses with 15 passengers or under (including the driver) typically do not require a Commercial Driver's License (CDL). 
2. Who makes these buses?
The bus provider for Lifeway Church Bus Sales, The Bus Center, represents some of the leading bus manufacturers including Starcraft, StarTrans, Turtle Top, Champion, Federal, Collins, and Thomas Built. The most popular bus chassis is built by Ford, but Chevrolet, GMC, International and Freightliner are available. 
3. What are some of the most popular options?
12V and USB Charging Stations in the passenger area

Dedicated Rear Luggage Storage and Overhead Parcel Racks

Upgraded High Back Seats with Retractable Seat Belts, Recliners and Armrests

Audio/Video Equipment

Backup Cameras and Alarms

Large A/C Systems with Dual Compressors
4. Are 15 passenger vans really unsafe?
Yes. National Highway Traffic Safety Administration (NHTSA) research shows there is a higher risk of rollover with 15 passenger vans. 
5. Is Financing Available?
Yes, you can potentially obtain up to 100% financing for term lengths up to 7 years. There are also leasing options ranging from 2-5 year terms, set up in a way that best fits your use of the bus.
6. Why has Lifeway chosen The Bus Center as their bus provider?
They understand the transportation needs of churches and are church-friendly.

They have a large inventory of buses equipped specifically for churches, so you will not have to wait months for your bus to be built.

They've been in business since 1972, and they have the experience to help you find the exact bus you are looking for and service it for years to come.
Contact Lifeway Bus Sales - The Bus Center

Learn more about the Lifeway One Source program. View Catalog
Get updates and deals with the One Source Church Direct email newsletter. Sign Up