Explore the Bible: Adult Daily Discipleship Guide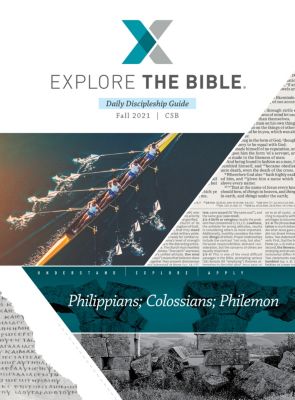 Daily Discipleship Guide
Most of us want the people in our groups to study God's Word every day. We know the difference regular Bible study makes in our lives, and we want them to experience that blessing as well. That's why we created the Explore the Bible Daily Discipleship Guide.
The Daily Discipleship Guide studies the same Scripture as the Personal Study Guide and Leader Guide and provides men and women with five daily Bible studies to study during each week.
Groups and churches will benefit from the Daily Discipleship Guide for a number of reasons:
Aligns Daily Bible Study with Group Experience
Instead of studying beforehand, participants attend the group, learn the content, and then build upon what they learned using five daily, directed Bible studies.
Guest Friendly
Everyone who comes to the group starts on the same page. So guests, and even participants who've been absent for a while, can feel like they're tracking right along with everyone else.
Easier to Train New Leaders
The leader material is in the back of the Guide—so leaders-in-training can just follow along with the leader during the group meeting without needing a different book.
All-in-One Resource
Because the group sessions and leader material are included in one book, it's easier to order and and distribute. Everyone uses the same resource.
Great for Discipleship Groups
Groups that meet in triads or quads for deeper discipleship will love the Talk It Out section. This encourages members to meet together later in the week and gives them questions to discuss based on the previous study.
Help Pastors Plan
Explore the Bible has a book-by-book discipleship plan laid out years in advance, so pastors can plan ahead and align their sermons with the Daily Discipleship Guide's content. Even free sermon outlines are provided. And the same subject matter is covered in all Student and Adult Explore the Bible resources. View the study plan.
Purchase one for each participant, including leader.
Use with the Explore the Bible Leader Pack, Commentary, and QuickSource.