Item#: 005832087
Unidos en Jesús - La serie completa
Frequently bought together
This item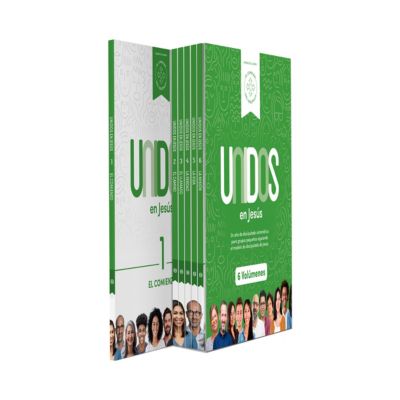 Unidos en Jesús - La serie completa
About this Item
Overview
Unidos en Jesús - La serie completa incluye todos los volúmenes de la serie de Unidos en Jesús. Cada uno de los seis volúmenes incluye guías del líder, códigos QR que enlazan videos introductorios para cada sesión, consejos prácticos para el discípulo, y recursos suplementarios gratis disponibles en www.serieunidos.com
Unidos en Jesús es una serie de estudios de seis volúmenes fundados en el modelo de discipulado de Jesús, basados en la serie El caminar del discípulo. La serie ofrece un programa intencional para cristianos que buscan un discipulado que transforma, y ayudará a los seguidores de Cristo a crecer hasta convertirse en discipuladores maduros.
Volumen 1: El Comienzo
¿Qué significa convertirse en un discípulo de Cristo?
¿Cómo hacer que Jesús sea el centro de mi vida?
¿Cómo me relaciono con Dios?
¿Cómo mi relación con Jesús impacta mi comunidad?
¿Cómo testifico de Jesús con mi estilo de vida?
Volumen 2: El Camino
Definición de un discípulo
Jesús llama a sus discípulos
Jesús enseña a su discípulos
Jesús prepara a sus discípulos
Jesús envía a sus discípulos
Volumen 3: El Llamado
¿Quién es Jesús
¿Qué hizo Jesús?
Seguir a Jesús
Las prioridades de un discípulo
El costo de un discípulo
El fruto de un discípulo
Volumen 4: La Verdad
La doctrina de Dios
La doctrina de la humanidad
La persona y la obra de Jesús
El reino de Dios
La doctrina del Espíritu Santo
La doctrina de la iglesia
Volumen 5: La Vida
Inmerso en la Palabra
Conectado mediante la oración
Viviendo en colectividad
La vida llena del Espíritu
Sirviendo en su reino
Proclamando las buenas nuevas
Volumen 6: La Misión
Cristo vino a nosotros
Cristo vino con una misión
Cristo vino a morir
Nosotros morimos con Cristo
Vamos con Cristo
Vamos juntos con Cristo
ENGLISH DESCRIPTION
Unidos en Jesús - La serie completa includes every of the six Unidos en Jesús volumes. Each of the volumes include Leader guides, QR codes that link introductory videos with each session, practical tips for discipleship, and free resources available in www.serieunidos.com
Unidos en Jesús is based on the English Bible Study Series Disciples Path, a series of resources founded on Jesus' model of discipleship. Created by experienced disciple-makers, it is an intentional path of transformational discipleship. While most small-group studies facilitate transformation through relationship and information, these disciple-making resources emphasize the principles of modeling, practicing, and multiplying.
Volume 1: The Beginning
What does it mean to live as a follower of Jesus?
How do I put Jesus at the center of my life?
How do I cultivate my relationship with God?
How does my relationship with Jesus impact my community?
How do I testify of Jesus with my life?
Volume 2: The Way
Defining a Disciple
Jesus Calls His Disciples
Jesus Teaches His Disciples
Jesus Equips His Disciples
Jesus Sends His Disciples
Volume 3: The Call
Who is Jesus?
What did Jesus do?
Following Jesus
The Priorities of a Disciple
The Cost of a Disciple
The Fruit of a Disciple
Volume 4: The Truth
The Doctrine of God
The Doctrine of Man
The Person and Work of Christ
The Kingdom of God
The Doctrine of the Holy Spirit
The Doctrine of the Church
Volume 5: The Life
Immersion in the Word
Connected Through Prayer
Living in Community
Spirit-filled Life
Serving His Kingdom
Spreading the Good News
Volume 6: The Mission
Christ Came to Us
Christ Came with a Mission
Christ Came to Die
We Die with Christ
We Go with Christ
We Go Together with Christ
Specifications
Age Minimum

18

Dimension - Height

1

Dimension - Length

9.1

Dimension - Width

6.2

Language

Spanish

Medium Format

Kit

Product Group

Bible Study

Product Type

Leader Kit

Publication Date

2021-04-30

Publisher

Lifeway Christian Resources

ISBN10

1087746485

ISBN13

9781087746487