Item#: 005832086
Unidos en el evangelio - La serie completa
:
Un año de estudio que explora el plan de salvación en la Biblia
Frequently bought together
This item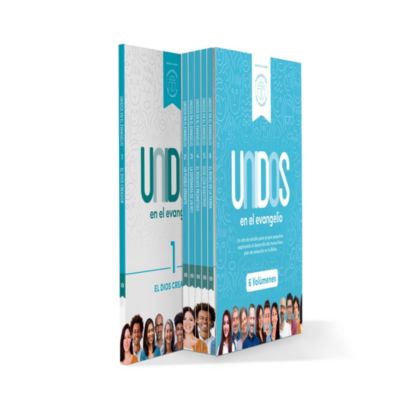 Unidos en el evangelio - La serie completa
About this Item
Overview
Unidos en el evangelio - La serie completa incluye todos los volúmenes de la serie de Unidos en el evangelio. Cada volumen incluye guías del líder, códigos QR que enlazan ayudas adicionales y videos introductorios para cada sesión, consejos prácticos para el discípulo, y recursos suplementarios gratis disponibles en www.serieunidos.com
Unidos en el evangelio es una serie de estudios de seis volúmenes basados en la serie Fundamentos del evangelio los cuales que trazan el desarrollo del plan de Dios para redimir a los pecadores por medio del evangelio de Jesús a través de toda la Biblia.
Volumen 1: El Dios creador
Dios crea
El hombre peca
Dios hace un pacto con Abraham
Dios prueba a Abraham
Dios obra a través de una familia disfuncional
Dios le da a Jacob un nombre nuevo
Dios redime la adversidad de José
Volumen 2: Un pueblo errante
Dios oye a Su pueblo
Dios libra a Su pueblo
Dios establece la adoración de Su pueblo
El pueblo de Dios se rebela
Dios le da a Su pueblo la tierra prometida
Los primeros jueces
Los últimos jueces
Volumen 3: La esperanza de un rey
El pueblo de Dios exige un rey
Dios escoge a un nuevo rey
Dios hace un pacto con David
Dios peca y es restaurado
Dios le da sabiduría a Salomón
La edificación del templo
La insensatez de Salomón divide el reino
Volumen 4: El rescate prometido
El fiel amor de Dios
La búsqueda constante de Dios
El juicio inflexible de Dios
La esperanza perdurable de Dios
La fortaleza constante de Dios
La restauración prometida de Dios
El plan eterno de Dios
Volumen 5: Dios con nosotros
El nacimiento de Jesús
La preparación de Jesús
Los milagros de Jesús
Las enseñanzas de Jesús
La crucifixión de Jesús
La resurrección de Jesús
La comisión de Jesús
Volumen 6: El reino en la tierra
La llegada del Espíritu
La dispersión de la iglesia
La expansión del evangelio
La salvación de Saulo
La recepción de la misión
La clarificación del evangelio
El regreso del Rey
ENGLISH PRODUCT DESCRIPTION
Unidos en el evangelio - La serie completa includes all six volumes of Unidos en el evangelio. Each volume includes: Leader guides, QR codes that link introductory videos for to help the conversation for each session, practical tips for discipleship, and other free resources available in www.serieunidos.com
Unidos en el evangelio is based on the English Bible Study Series Gospel Foundations, a series that tells the unfolding story of redemption. This six-volume resource is comprehensive in scope yet concise enough to be completed in just one year. Each seven-session volume includes videos to help your group engage in discussion with a clear understanding of how each text fits into the storyline of Scripture.
Volume 1: The God Who Creates
God Creates
Man Sins
God Makes a Covenant with Abraham
God Tests Abraham
God Works Through a Dysfunctional Family
God Gives Jacob a New Name
God Redeems Joseph's Adversity
Volume 2: Wandering People
God Hears His People
God Delivers His People
God Establishes the Worship of His People
God's People Rebel
God Gives His People the Promised Land
The Early Judges
The Later Judges
Volume 3: Longing For A King
God's People Demand a King
God Chooses a New King
God Makes a Covenant with David
David Sins and is Restored
God Gives Solomon Wisdom
The Temple is Built
Solomon's Foolishness Divides the Kingdom
Volume 4: The Coming Rescue
God's Faithful Love
God's Continued Pursuit
God's Uncompromising Judgment
God's Enduring Hope
God's Continued Strength
God's Promised Restoration
God's Eternal Plan
Volume 5: God With Us
The Birth of Jesus
The Preparation of Jesus
The Miracles of Jesus
The Teachings of Jesus
The Crucifixion of Jesus
The Resurrection of Jesus
The Commission from Jesus
Volume 6: The Kingdom On Earth
The Spirit Comes
The Church is Scattered
The Gospel Expands
Saul is Saved
Mission is Embraced
Gospel is Clarified
King Returns
Specifications
Age Minimum

18

Dimension - Height

1

Dimension - Length

9.1

Dimension - Width

6.2

Language

Spanish

Medium Format

Kit

Product Group

Bible Study

Product Type

Study Guide

Publication Date

2021-04-30

Publisher

Lifeway Christian Resources

ISBN10

1087746477

ISBN13

9781087746470