Item#: 005840854
The Quest - Video Streaming - Teen Group
:
Daring to Know the Heart of God
Frequently bought together
This item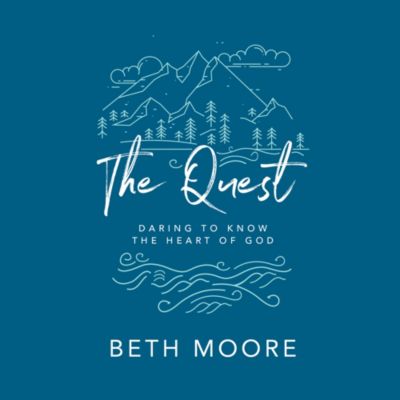 The Quest - Video Streaming - Teen Group
About this Item
Overview
The Quest: Daring to Know the Heart of God - Video Streaming – Teen Group includes streaming access to 6 teaching sessions by Beth Moore for group viewing. This product includes 3 transferable licenses with perpetual video access for group leaders.*
There Is No Quest Without Questions
Curiosity is hardwired in humanity. We have this innate need to question and seek after what we don't know or understand.

In this 6-session Bible study, delve into Scripture to explore how God created us to seek after Him—a God who desires to be found and known. In this lifelong quest of faith, learn to develop your intimacy with Him and embrace the adventure that comes with living a life for God.
Video Sessions
Session 1: One (27:16)—Author Beth Moore challenges girls to a quest toward intimacy with God. A quest is more than a journey; it is a wild ride! God encourages us to ask questions and engage as participants, not spectators, in our walk with Christ.
Session 2: Two (5:09)—Where are you on the path in your relationship with Jesus? Are you in a place of spiritual dryness or abundance? The Spirit of the Living God can breathe fresh life into you. The Holy Spirit wants you to live an abundant and unexplainable life where God alone receives the glory.
Session 3: Three (7:54)—There is a difference between questioning God and asking God questions. Beth explores that difference and shows how God sometimes answers in the form of a question. He asks each of us, "What do you have in your hand?" How can you serve God with what He has already given you?
Session 4: Four (13:36)—There are times when our questions to Jesus seem to go unanswered. But most of the time we receive a response to our inquiries. Beth reminds us that Jesus sees who we really are, and that our true identity is found in Him. He calls us out to be women of valor and honor; to do that we need to be less self-aware and more God-aware.
Session 5: Five (6:09)—Why are we afraid? How do we deal with fear on our quest toward intimacy with God? We will face obstacles and opposition in this life. When the road is blocked and we are challenged spiritually, we can overcome opposition from the enemy in the power of Jesus' name.
Session 6: Six (28:03)—God's Word is a lamp to our feet and a light to our path. Beth challenges girls to hold tight to Scripture and look to God in trust for every step, for every moment. God is our Provider and our Portion as we journey with Him.
This Video Streaming - Group option can be viewed by a group of any size. These videos cannot be copied or shared.
*Video access will remain as long as this study is in print.
Specifications
Age Minimum

12

Language

English

Medium Format

Video

Product Group

Bible Study

Product Type

Leader/Facilitator Guide

Publication Date

2022-03-31

Publisher

Lifeway Christian Resources

UPC

840154582003

Age Max

18