Item#: 005796748
The Explicit Gospel - Video Session 1 - Rent
Frequently bought together
This item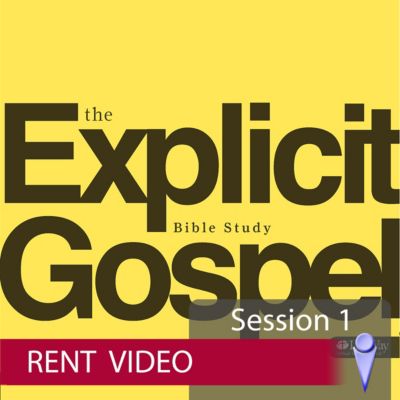 The Explicit Gospel - Video Session 1 - Rent
About this Item
Overview
Explicit Gospel – Individual Use Video (Rent) (for individual viewing) featuring Matt Chandler. All 6 of these helpful video sessions are available to individuals as rent sessions. This 6-session Bible study clearly defines the saving power of the gospel and then articulates what the gospel does for believers after salvation. This study will also challenge you to embrace and rely on the gospel to grow in Christlikeness, to persevere in your faith, to serve others in the power of Christ, and to celebrate your eternal redemption.

These video sessions are most effective when used with the Explicit Gospel Bible study book. Rent these sessions as a bundle for personal use or for times you can't be at the group Bible study sessions.

This video will expire 2 weeks after the date of purchase.

Session 1
The Gospel of Past, Present, and Future (28:32)

Author and pastor Matt Chandler explores why the gospel is just as important for believers as for people who need to be saved. The gospel enables believers to persevere in their faith and to delight in Jesus Christ throughout their lives.

Session 2
The Gospel Saves You (30:12)

Author and pastor Matt Chandler examines humanity's need for the gospel to save. Although all people reject God, the gospel has the power to save through the righteousness of Jesus Christ.

Session 3
The Gospel Matures You (33:50)

Author and pastor Matt Chandler identifies the work of the gospel in bringing believers to spiritual maturity. The gospel pushes us toward righteousness and holiness as we set our eyes, minds, and hearts on Jesus.

Session 4
The Gospel Pushes You Out (32:58)

Author and pastor Matt Chandler defines the ministry of reconciliation given to every believer. The gospel produces transformed hearts, which lead to good works motivated by our delight in God.

Session 5
The Gospel Holds You to the End (29:37)

Author and pastor Matt Chandler explains that the gospel provides a foundation of eternal security for every believer in Christ. All God's power, wealth, and might not only save believers and but also sustain them to the end.

Session 6
The Gospel Consummation (30:18)

Author and pastor Matt Chandler explores the work of the gospel in bringing all things to completion in Jesus Christ. All humanity and creation groan for redemption, and the gospel holds us secure and steadfast until God makes all things new.

Shop All "The Explicit Gospel"
Specifications
Age Minimum

18

Language

English

Medium Format

Video

Number of Pages

144

Product Group

Bible Study

Product Type

Bible Study Accessory

Publication Date

2017-03-01

Publisher

Lifeway Christian Resources

UPC

634337752167