Item#: 005838473
The Armor of God - Bible Study Book with Video Access
Frequently bought together
This item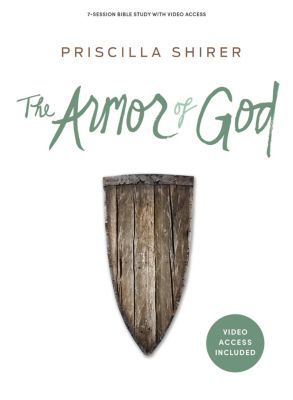 The Armor of God - Bible Study Book with Video Access
About this Item
Overview
All day, every day, an invisible war rages around you — unseen, unheard, yet felt throughout every aspect of your life. A devoted, devilish enemy seeks to wreak havoc on everything that matters to you: your heart, your mind, your marriage, your children, your relationships, your resilience, your dreams, your destiny.

But his battle plan depends on catching you unaware and unarmed. If you're tired of being pushed around and caught with your guard down, this study is for you.

The enemy always fails miserably when he meets a woman dressed for the occasion. The Armor of God, more than merely a biblical description of the believer's inventory, is an action plan for putting it on and developing a personalized strategy to secure victory.

Features:
6 weeks of personal study to be completed between 7 group sessions
Includes perforated prayer cards that can be used to develop a prayer strategy

Leader material (guides to questions and discussion with small group)

7 teaching videos, approximately 18–45 minutes per session, available via redemption code printed in Bible study book for individual streaming access

Benefits:
Equip women to get serious, specific, and strategic in their discipline of prayer.
Turn challenges and discouragement into opportunities for prayer.

Grow spiritually as you dig deeper into Scripture and expand your understanding of prayer.

Develop and implement practical, purposeful prayer strategies.

Video Sessions:
Session 1: Sizing Up the Enemy (43:26)—Everything that occurs in the visible, physical world is directly connected to the wrestling match being waged in the invisible, spiritual world. We often give the enemy too much credit for being impossible to defend or defeat. Prayer is the divinely authorized method that activates our spiritual armor and makes it effective.
Session 2: The Belt of Truth (41:22)—The belt of truth is your core support. It provides the essential backing you need when you're in the midst of spiritual war. When you're standing firm on the truth of God as revealed in His Word—when His truth is at the core of your existence—strength flows into every other area of your life.

Session 3: The Breastplate of Righteousness (38:23)—Roman soldiers wore the breastplate to protect the upper body and especially the heart. Wearing the breastplate could mean the difference between life and death. What the breastplate did for the Roman soldier's physical heart, righteousness does for your spiritual heart.

Session 4: The Shoes of Peace (41:06)—Of all the things the enemy seeks to steal, kill, and destroy in your life, peace is almost always at or near the top of his list. Anywhere peace is lacking, the enemy is at work. We can't always control the kind of ground we're forced to march across. But we can still move forward when our feet are fitted with the preparation of the gospel of peace.

Session 5: The Shield of Faith (35:50)—Faith is one of the most overused and yet underutilized expressions in Christian circles. However, talking about faith is not the same as having it. Faith is an action. By definition, faith is not talking about or thinking about or even celebrating God's truth. It is the process of adapting your behavior, your decisions, and ultimately your whole lifestyle so it accords with what He has asked you to do—without needing to see the evidence that it will all work out in the end.

Session 6: The Helmet of Salvation (40:54)—The salvation experience is often reduced to something that only affects a person's eternal destiny. However, salvation is meant to come with more than future benefits. Salvation is not just a past event; it is also a present reality. The fact that Jesus lives means our salvation flows into the every day experiences where we live.
Session 7: The Sword of the Spirit (18:19)—Ephesians 6:17 is clear: The sword of the Spirit is the Word of God. As the believer puts on the full armor of God it includes this weapon that may be used for defense or offense against the schemes and lies of the enemy. God's Word is an indispensable weapon for life.
Shop All "Armor of God"
Specifications
Age Minimum

18

Dimension - Height

0.554

Dimension - Length

9.5

Dimension - Width

7

Language

English

Medium Format

Paperback

Number of Pages

192

Product Group

Bible Study

Product Type

Study Guide

Publication Date

2022-03-15

Publisher

Lifeway Christian Resources

ISBN10

1087769450

ISBN13

9781087769455