Item#: 005842627
Surrendering the Secret - Video Streaming - Individual
Frequently bought together
This item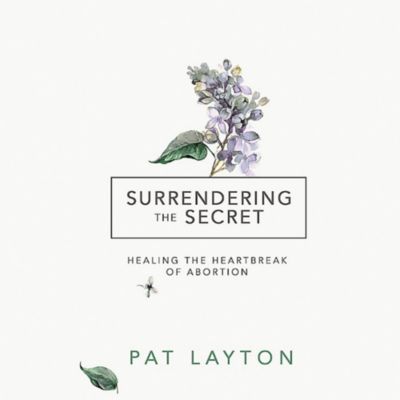 Surrendering the Secret - Video Streaming - Individual
About this Item
Overview
Surrendering the Secret: Healing the Heartbreak of Abortion - Video Streaming - Individual includes perpetual streaming access* to 8 teaching sessions by Pat Layton for individual viewing.
Session 1: Where Have You Come From? (27:06)—For the first session, Pat offers words of encouragement and hope to you as you begin your Surrendering the Secret journey. Through her own journal entries and a discussion with women who have taken this journey before you, Pat explains what to expect from the next seven sessions of this study and group experience. God has directed your steps to be here, and you don't have to live in fear and hide from your past anymore.
Session 2: Sharing the Secret: A Spring in the Desert (34:04)—Healing the heartbreak of abortion begins by sharing your secret. In this video, Pat explains that God wants to set you free, but He can't do that when you're holding onto your secrets. As the women in Pat's group share their stories, you'll be encouraged to surrender your own and reminded that Jesus understands the shame and loss that you feel.
Session 3: Walk in Truth (22:34)—An important part of healing after an abortion is learning the difference between the truth and lies you were told. In this session, Pat and the women in her group share some of the difficult truths they learned after their abortions and their struggles with post-abortion trauma. The most important truth is that God loves you and wants to heal you from the pain of your past.
Session 4: A Time for Anger: Tearing Down Roadblocks (22:32)—In this session, Pat provides a safe place for you to identify and express your anger, an emotion that is appropriate to feel after an abortion. However, anger that does not lead to healthy responses and positive action only leads to self-destruction and personal pain and loss. Through their own examples, the women in Pat's group will help you learn to focus your anger on something positive, something that will make a difference for the kingdom of God.
Session 5: Forgiveness: A Giant Step Toward Freedom (22:54)—After dealing with unresolved anger, it's time to forgive yourself and forgive the people who played a part in your abortion. In this session, Pat challenges you to forgive the way God forgives you—supernaturally, unconditionally, and permanently. Forgiveness clears the path for you to walk straight to God.
Session 6: From Grief to the Great Exchange (17:11)—God has helped you share the darkest secret in your life and led you to the truth about abortion. You've faced painful memories and confessed long-hidden horrors and drawn-out emotions you didn't even know you had. In this video, Pat invites you to acknowledge that the grief you feel over the loss of your child is right and good and to allow your sorrow to drive you into God's arms, where He will exchange your sins for His holiness.
Session 7: The Peace of Release (28:40)—At this point in your journey of surrender, Pat encourages you to embrace the plan God has for you. He wants you healed and whole and is ready to give you an assignment that will change the world. As Pat and the women in her group point out in this video, you'll never be able to completely walk away from the pain of your abortion, but God's love is sufficient for you. He'll give you an everlasting peace that will be bigger than your pain and loss.
Session 8: Share the Journey (18:34)—With this final video, Pat and the women in her group empower you to share your story with others. God wants you to be part of His salvation message to the world. Through their examples, you'll gain ideas for how you can share your journey with others and the confidence to do so.҈

The Video Streaming - Individual option is only meant to be viewed by the person who purchased it. These videos cannot be copied or shared. If you need videos to show in a small group study, please purchase the Video Streaming - Group option if available.

*Video access will remain as long as this study is in print.

Shop All "Surrendering The Secret"
Specifications
Age Minimum

18

Language

English

Medium Format

Video

Product Group

Bible Study

Product Type

Bible Study Accessory

Publication Date

2022-08-11

Publisher

Lifeway Christian Resources