Item#: 005799056
Seven Arrows
Free Shipping on orders over $50

Return Policy -
Frequently bought together
This item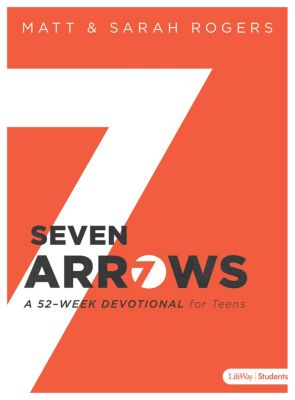 Seven Arrows
About this Item
Overview
The Bible is no ordinary book.

Every word of Scripture is inspired and empowered by God, which means we shouldn't read the Bible like any other book. So how should we read God's Word?

The Seven Arrows Bible reading method is designed to help you make the most of your time in God's Word. This clear, orderly, and memorable guide for studying any passage of Scripture will equip you to love and apply God's Word for the rest of your life. Seven Arrows provides a 52-week survey of the overarching story of the Bible, uniting all of Scripture to the person and work of Christ. Using the arrows as a guide, you'll move through the entire Bible in a year and emerge with a deeper appreciation for God's love for you and the beauty and power of His Word.

Each arrow of the Seven Arrows Bible reading method represents a question to consider every time you read Scripture:
1. What does this passage say?
2. What did this passage mean to its original audience?
3. What does this passage tell us about God?
4. What does this passage tell us about man?
5. What does this passage demand of me?
6. How does this passage change the way I relate to people?
7. How does this passage prompt me to pray?
Features:
1-year devotional book
5 days of reading per week fits into busy schedules
Bible reading plan that walks students through the redemptive narrative of the Bible in one year
The last devotion of each week connects that chapter of God's story to Jesus Christ
Daily devotional material will help students correlate Bible reading and real-life application
Benefits:
Expand students' understanding of the Bible by being in the Word of God 5 days per week
Study the Bible using a flexible 5-day per week plan that accommodates busy schedules
Experience personal spiritual growth
Provides the opportunity for guys and girls to dig deeper into Scripture as individuals or with a group
Guides students to reflect on the truth of Scripture using the Seven Arrows Bible reading method
Practical devotional for new or inexperienced Bible study students as well as those who are more familiar with the Scriptures
Matt and Sarah Rogers serve in ministry together at The Church at Cherrydale in Greenville, South Carolina, where Matt is a pastor. They have three daughters, Corrie, Avery, and Willa, and a son, Hudson. Matt holds an MDiv and PhD from Southeastern Baptist Theological Seminary and writes and speaks throughout the United States on discipleship, pastoral ministry, and missions. Follow Matt on Twitter @mattrogers_ or find him online at http://mattrogers.bio. Matt is also the coauthor of Seven Arrows: Aiming Bible Readers in the Right Direction. For more information go to sevenarrowsbible.com.
Specifications
Age Minimum

12

Binding

Paperback

Dimension - Height

0.7

Dimension - Length

9.5

Dimension - Width

7

Language

English

Medium Format

Paperback

Number of Pages

288

Product Group

Books

Product Type

Non-Fiction

Publication Date

2017-11-15

Publisher

Lifeway Christian Resources

ISBN10

1462777554

ISBN13

9781462777556