Item#: 005808930
Psalm 23 - Video Streaming - Individual
:
The Shepherd With Me
Frequently bought together
This item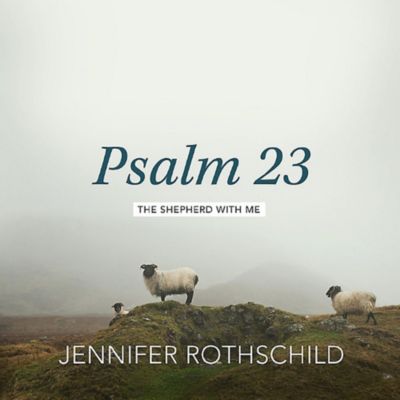 Psalm 23 - Video Streaming - Individual
About this Item
Overview
Psalm 23: The Shepherd with Me - Video Streaming - Individual includes perpetual streaming access* to 7 teaching sessions by Jennifer Rothschild for individual viewing.

In this seven session study, gain fresh insight and encouragement from Psalm 23. Explore the depths of God's compassionate care while debunking the self-reliance myth. Learn how your vulnerability is not a liability because you can trust the Shepherd's goodness throughout each season of life.

Videos Sessions:
Session 1: Your Shepherd is With You (27:20)—Jennifer introduces us to Psalm 23, a spiritual lullaby that reminds us that we are sheep who need the love, provision and protection of our Shepherd.
Session 2: Your Shepherd's Got Your Back (30:34)—In Session 2, the focus is on verse 1 of Psalm 23, where we learn that our Shepherd meets all of our needs. He not only cares about us as His sheep, He cares for us.
Session 3: Your Shepherd Gives You Rest (25:35)—The teaching in Session 3 highlights the truth found in verse 2, that when we position ourselves under the Shepherd's authority, we are able to truly rest.
Session 4: Your Shepherd Guides Your Path (25:36)—Being on the right path with the right attitude is the focus of the Session 4 teaching. Jennifer reminds us we get on the path by grace with the destination being God's glory.
Session 5: Your Shepherd is By Your Side (31:14)—Session 5 video takes us into that dreaded dark valley. Jennifer points out three different kinds of valleys we walk through, and how we are able to walk through them because our Shepherd is with us.
Session 6: Your Shepherd Calls You His (27:07)—In Session 6, the Shepherd becomes our host as we feast at His table. Jennifer uses the story of David and Mephibosheth to show us how God longs to be with us and honor us.
Session 7: Your Shepherd Brings You Home (32:08)—"The house of the Lord" is our theme for this final session. Jennifer emphasizes that the goodness and mercy of God follows us all the days of our lives as we enjoy His presence here and then ultimately make our home with Him in heaven.

The Video Streaming - Individual option is only meant to be viewed by the person who purchased it. These videos cannot be copied or shared. If you need videos to show in a small group study, please purchase the Video Streaming - Group option if available.

*Video access will remain as long as this study is in print.

Shop All "Psalm 23"
Specifications
Age Minimum

18

Language

English

Medium Format

Video

Product Group

Bible Study

Product Type

Bible Study Accessory

Publication Date

2018-07-16

Publisher

Lifeway Christian Resources

UPC

634337872353