Item#: 005819571
Overcomer - Video Session 1 - Rent
Frequently bought together
This item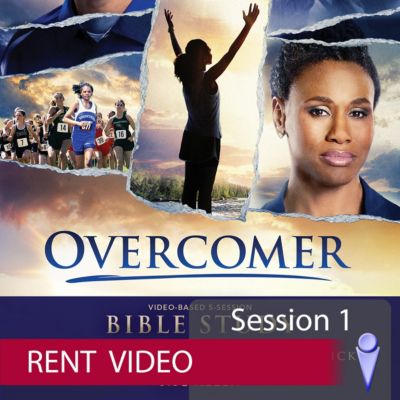 Overcomer - Video Session 1 - Rent
About this Item
Overview
Overcomer– Individual Use Video (Rent) (for individual viewing) featuring Stephen Kendrick and Alex Kendrick. All 5 of these video sessions are available to stream as individual sessions. In this 5-session Bible study Filled with a powerful mix of faith, a twist of humor, and a ton of heart, the Kendrick based on the inspiring family film Overcomer featuring Stephen Kendrick, Alex Kendrick, and clips from Overcomer. This study dares to leave you filled with hope, inspired to dream, and asks the question, What do you allow to define you?

These video sessions are most effective when used with Overcomer Bible study book. Rent these sessions as a bundle for personal use or for times you can't be at the group Bible study sessions.

This video will expire 2 weeks after the date of purchase.

Session 1: Who Are You? [02:02]
Basketball coach John Harrison enters Principal Olivia Brooks's office and learns that the football program has been terminated. The main factory in town has closed its doors, eliminating more than five thousand jobs. This closure is shrinking the town and crushing high-school enrollment. Without enough players, athletic programs are being cut. Olivia sees an opportunity to salvage the cross-country team by having John take over. In his mind cross country isn't even a real sport. But John is given the responsibility, and it begins to unravel his identity.

Session 2: You Are Broken [2:20]
Circumstances have a way of circumventing our best-laid plans. That's the case for John and Amy. As the ripple effect of the factory's closing continues to upset the Harrisons, the place where John has built his identity is revealed. Amy, his wife, knows it and has a less-than-gracious way of approaching the subject. John certainly needs accountability, but high stress is taking a toll on the marriage. During a moment of marital reproof, difficult words are exchanged, and brokenness in John's heart is exposed.

Session 3: You Are Chosen [4:09]
The backstory of principal Olivia Brooks and young Hannah runs deeper than this brief clip can convey. Seizing a moment to check in on Hannah and everything spinning in her life gives Olivia an open door to present the gospel. As Hannah wrestles with feelings of abandonment toward her earthly father, Olivia explains the great lengths that her Heavenly Father went to in redeeming her. Miraculously, Hannah receives Jesus.

Session 4: You Surrender [3:55]
Playing the hand life dealt doesn't mean John automatically embraces the change. At this point in the film, John still laments the loss of his basketball team and the possibility he saw on that path, including a state championship win and a scholarship for Ethan. When Thomas, his unlikely new friend, asks that key question "Who are you?" John leads with basketball even though it's gone.

Session 5: You Declare [3:49]
The Hannah we see in this week's clip is decidedly different from the young girl we encountered two weeks ago. Armed with faith in Christ, Hannah confidently begs for the question, ready with her answer. Hannah is certain of her worth because her identity is no longer rooted in the father who deserted her, the asthma that plagued her, the sin that followed her, or the sport that defined her. She now boldly declares her relationship with Christ and her citizenship in heaven. Her identity is wrapped up in Jesus.

Shop All "Overcomer"
Specifications
Age Minimum

18

Dimension - Length

9.5

Language

English

Medium Format

Video

Number of Pages

192

Product Group

Bible Study

Product Type

Study Guide

Publication Date

2019-05-15

Publisher

Lifeway Christian Resources

UPC

634337939100