Item#: 005834623
NBLA Biblia temática de estudio, negro símil piel
Free Shipping on orders over $50

Return Policy -
Frequently bought together
This item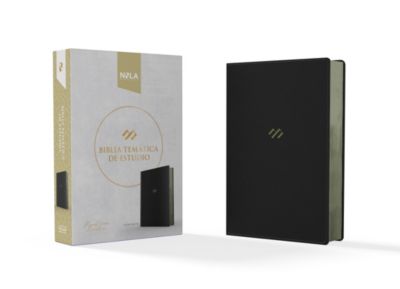 NBLA Biblia temática de estudio, negro símil piel
About this Item
Overview
La Biblia temática de estudio, editada por el Dr. Miguel Núñez, es un recurso sin precedentes para el pueblo de habla hispana. Esta Biblia ha sido diseñada para profundizar en el entendimiento completo de la Palabra de Dios. Con más de 50 artículos sobre la Biblia y teología, más de 200 apuntes teológicos e introducciones a cada libro escritos por el Dr. Miguel Núñez, esta es la Biblia de estudio teológica más completa que se ha producido en español. Cuenta con la colaboración de más de 25 pastores y teólogos hispanos.

Además de una extensa introducción a la Biblia de la pluma del Dr. Núñez, los artículos, escritos por un destacado equipo de colaboradores, incluyen temas como «La caída y sus efectos», «La ley de Dios», «La adoración», «La Trinidad», «La santificación del creyente», «La doctrina de la justificación» y más. Este recurso ayudará al lector a ver la coherencia de la Biblia y la importancia de ella en la vida de la Iglesia.
Características:
Dr. Miguel Nuñez, editor general
Introducciones a cada libro de la Biblia por Miguel Núñez
10 artículos inéditos de introducción a la Biblia por Miguel Núñez
50 artículos de Biblia y teología escritos por más de 25 pastores y teólogos de diferentes países Latinoamericanos
Más de 200 devocionales teológicos
Referencias al pie de página
Palabras de Cristo en rojo
Mapas a colores
Concordancia y más

The Thematic Study Bible, edited by Dr. Miguel Núñez is an unprecedented resource for hispanics. This Bible has been designed to deepen in the complete understanding of the Word of God. With more than 50 articles about the Bible and theology, more than 200 theological devotionals, and introductions to each book written by Dr. Miguel Núñez, this is the most complete Study Bible that has been produced in Spanish. It includes the collaboration of more than 30 hispanic pastors and theologians. In addition to an extensive intruduction to the Bible written by Dr. Miguel Núñez, the articles, written by an outstanding group of contributors, include topics like «The fall and its effects», «God's law», «Worship», «Trinity», «The believer's sanctification», «The doctrine of justification», and more. This resource will help the reader see the coherence of the Bible and its importance in the life of the Church. Features:
Dr. Miguel Núñez, general editor Introductions to each book of the Bible written by Miguel Núñez
10 unprecedented articles as an introduction to the Bible by Miguel Núñez
50 articles about Bible and theology written by more than 25 pastors and theologians from different Latin American countries
More tan 200 theological devotionals
Footnote references
Words of Christ in red
Maps in full color
Concordance and more
Shop All "Biblia Tematica de Estudio"
Specifications
Age Minimum

18

Color

Black

Dimension - Height

2

Dimension - Length

9.9

Dimension - Width

7

Language

Spanish

Medium Format

Imitation Leather

Number of Pages

1938

Product Group

Bibles

Product Type

Study Bible

Publication Date

2022-06-02

Publisher

B&H Publishing Group

ISBN10

1087753821

ISBN13

9781087753829