Item#: 005838277
Navigating Gospel Truth - Bible Study Book with Video Access
Frequently bought together
This item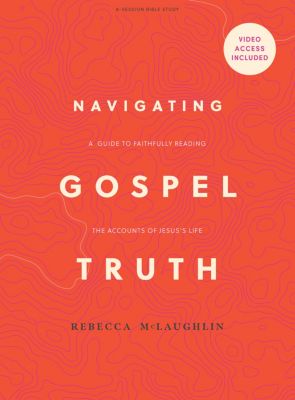 Navigating Gospel Truth - Bible Study Book with Video Access
About this Item
Overview
The Gospels—Matthew, Mark, Luke, and John—are four accounts of one extraordinary life. Each book tells the story of the life, death, and resurrection of Jesus Christ. These book aren't fairytales, fiction, or legend; they are gospel truth. Our eternal future hinges on whether or not they are trustworthy testimonies of the events of Jesus's life and accurate records of HIs teaching.

While exploring the literary terrain of the gospels, you'll learn to identify and understand the different kinds of writing in these ancient texts, including narrative, poetry, parable, and more. Through this journey, your confidence in the truth of Scripture will be renewed and you'll gain a more captivating view of the Savior. And along the way you'll acquire skills that will help you become a better student of all of Scripture.

Features:
Leader helps for group discussion
7 weeks of personal study to be completed between the 8 group sessions
Teaching videos, approximately 20–25 minutes, via redemption code printed in the Bible study book

Benefits:
Affirm that the accounts of Jesus's life in the Gospels are reliable and true. 
Gain a clearer and more captivating view of Jesus's ministry and purpose.
Cultivate an ability to read, understand, and interpret the different types of genres in the Bible.
Develop a desire to be a diligent and confident student of Scripture.

​Video Sessions:
Session 1: Can We Trust the Gospels? (17:27)—In the opening teaching session, Rebecca provides a foundation for the study by giving us five reasons why we can trust that Gospels are historically reliable accounts of the life and ministry of Jesus.
Session 2: Narrative (20:23)—In Session 2, Rebecca affirms that all the stories about Jesus found in the Gospels were recorded so that we may believe that He is the Christ, the Son of God. However, she challenges us to discover why these particular stories were used out of hundreds that could have been told.
Session 3: Metaphor (18:05)—Jesus used metaphors in His teaching, but how and why? Rebecca will help us see in the Session 3 video teaching that metaphors in the Gospels present truth in a way that gets our attention and woos our hearts.
Session 4: Parables (22:50)—Jesus told lots of parables. He used these simple, purposeful stories to share deep, life-changing truths. In this session, Rebecca will define four different kinds of parables found in the Gospels to help us better understand what Jesus was teaching.
Session 5: Teaching (22:03)—We've seen how Jesus used metaphors and parables in His teaching. Now in Session 5, Rebecca explains five other different kinds of teaching elements—hyperbole, blessing, commandment, contradiction, and aphorism—Jesus used to express the truth.
Session 6: Dialogue (21:59)—The Gospels include significant encounters Jesus had with individuals. In this video session, Rebecca will walk us through three conversations Jesus had with different people to show us how these dialogues weren't just idle chatter, but meaningful moments that caused people to confront the truth.
Session 7: Prophecy (20:45)—When we think about prophecy, we can easily get focused just on specific predictions being fulfilled. But Rebecca will point out four different categories of prophecy found in the Gospels, and why each is significant, and how we best need to read them.
Session 8: Wrap Up (6:00)—Rebecca closes the study by challenging us to not just pick out little pieces of the Gospels, but to sit down and read them through—to have a fresh, life-changing encounter with Jesus through these four accounts of His life, ministry, and teaching.

Shop All "Navigating Gospel Truth"
Specifications
Age Minimum

18

Dimension - Height

0.553

Dimension - Length

9.5

Dimension - Width

7

Language

English

Medium Format

Paperback

Number of Pages

208

Product Group

Bible Study

Product Type

Study Guide

Publication Date

2023-03-01

Publisher

Lifeway Christian Resources

ISBN10

1087768373

ISBN13

9781087768373