Item#: 005842059
Missing Pieces - Video Streaming - Group
Frequently bought together
This item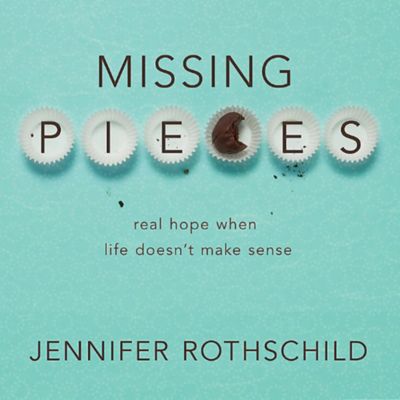 Missing Pieces - Video Streaming - Group
About this Item
Overview
Missing Pieces: Real Hope When Life Doesn't Make Sense - Video Streaming - Group includes perpetual streaming access* to 7 teaching sessions by Jennifer Rothschild for group viewing. This product includes 10 transferable licenses with perpetual video access for group leaders.

Does God care? Is He fair? Is He even there? Although you may know all the right answers, they don't always feel right. Explore these and other questions in this realistic look at the messy, mysterious uncertainties of faith. God's ways don't always make sense, but He is trustworthy. Come close to Him. Trust Him more than your feelings. God will reveal Himself and fill in your missing pieces.

Video Sessions:
Session 1: Introduction (35:11)–This opening session introduces the Missing Pieces study. Jennifer sets the stage by reminding us that God fills the missing pieces of our lives with Himself. She also introduces the theme verse for the study, Habakkuk 3:17.
Session 2: God, Do You Care? (27:16)–In this session, Jennifer explores the Israelites, or as she calls them, the "Miserable-ites." She specifically discusses God's provision of manna and, in turn, His provision for our life.
Session 3: God, Are You Fair? (25:45)–Through exploring hard questions like,"Is God fair?", Jennifer discovers that no, God is not fair, but He is just. She reminds us that we deserve hell, but God in His grace grants us so much more than we deserve.
Session 4: God, Are You There? (20:00) –In this session, Jennifer dives into the life of Gideon. She shows that Gideon wrestled with being present in his present and missed that God was there with him all the time and reminds us that we often do the same thing.
Session 5: God, Are You Aware? (25:11) –Jennifer discusses, in this session, how we can sometimes feel insignificant—like no one, even God, cares. She spends time in the story of Mary Magdalene and Nathaniel to show us how God really does see us and care about us.
Session 6: God, Do You Hear Prayer? (25:15) –Despite how things may seem or how we feel, God really does hear our prayers. This session reminds us to trust Him even when we don't see tangible results to the things we pray.
Session 7: God, Do You Err? (29:25) –Jennifer wraps up this series by reiterating that there are no missing pieces in God's plan. She challenges us to rest in God's ways because His ways are perfect

If you need videos to view on your own, we suggest purchasing the Video Streaming - Individual. This Video Streaming - Group option can be viewed by a group of any size. These videos cannot be copied or shared.

*Video access will remain as long as this study is in print.

Shop All "Missing Pieces"
Specifications
Age Minimum

18

Language

English

Medium Format

Video

Product Group

Bible Study

Product Type

Bible Study Accessory

Publication Date

2022-09-01

Publisher

Lifeway Christian Resources