Item#: 005846818
Living Beyond Yourself - Video Streaming - Group
Frequently bought together
This item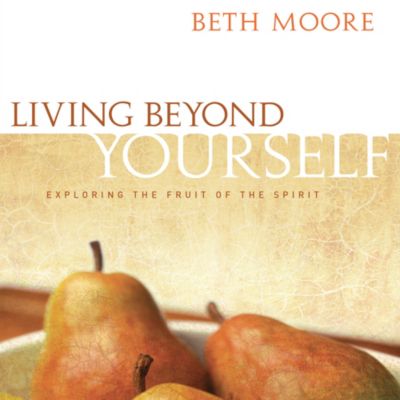 Living Beyond Yourself - Video Streaming - Group
About this Item
Overview
Living Beyond Yourself: Exploring the Fruit of the Spirit – Video Streaming - Group includes perpetual streaming access* to 11 teaching sessions by Beth Moore for group viewing. This product includes 10 transferable licenses with perpetual video access for group leaders.

This study of the fruit of The Spirit as presented in the book of Galatians encourages women to know the freedom of a Spirit-filled life.

Video Sessions:
Introductory Session: (64:00)—In this session, Beth introduces the foundational truth of the study: that Jesus Christ in us not only guarantees life in Heaven but also Jesus Christ in us grants the astounding invitation to live beyond ourselves on earth. We have the same Holy Spirit in us that the disciples had in them, and God has called us to live far beyond what we are able to do on our own.
Session 1: Free at Last (68:00)—Beth looks at the basic practices that make life in the Spirit possible for any believer.
Session 2: To Live by the Spirit (63:00)—Beth discusses how the Holy Spirit teaches us and leads us even in the gray ambiguity of life if we are willing to listen and discern Him. The power of the Holy Spirit can develop within us: heightened perception, discernment, and insight.
Session 3: Greatest of These Is Love (67:00)—Beth looks at the first quality of the Fruit of Christ's Spirit which is love. Love is a feel-good word, but feeling love is not always easy. In fact, apart from the Holy Spirit, love can at times be impossible.
Session 4: The Joy of the Lord Is Our Strength (61:00)—Beth looks at the fruit trait of joy. As Christians, we're literally commanded to rejoice. And in Jesus Christ, we always have a reason.
Session 5: Peace Be with You (62:00)—Beth discusses what true peace making is all about. Isaiah 9:6-7 gives Christ the title of Prince of Peace, and peace is always associated with authority.
Session 6: A Composite of Peculiar Patience (69:00)—Beth explores the complication of patience, the call to patience, and the completion of patience.
Session 7: The Kindness and Goodness of God (66:00)—Beth discusses the quality of goodness against the backdrop of God's kindness.
Session 8: Keep Believin' (67:00)—Beth discusses how without faith, it is impossible to please God and invites participants to have the same heart cry as the disciples in Luke 17:5 – increase our faith.
Session 9: Gentle Giants (66:00)—Beth looks at what God has to say from the pages of Scripture about gentleness.
Session 10: The Crucible of Self-Control (70:00)—Beth shares that to bear the fruit of the Spirit is to manifest the personality of Jesus Christ Himself. Christ in us, the hope of glory, that's living beyond yourself.


If you need videos to view on your own, we suggest purchasing the Video Streaming - Individual. This Video Streaming - Group option can be viewed by a group of any size. These videos cannot be copied or shared.

*Video access will remain as long as this study is in print.

Shop All "Living Beyond Yourself"
Specifications
Age Minimum

18

Language

English

Medium Format

Video

Product Group

Bible Study

Product Type

Bible Study Accessory

Publication Date

2023-03-02

Publisher

Lifeway Christian Resources

UPC

081407482804