Item#: 005811061
Jonathan Edwards, Legacy Edition
Free Shipping on orders over $50

Return Policy -
Frequently bought together
This item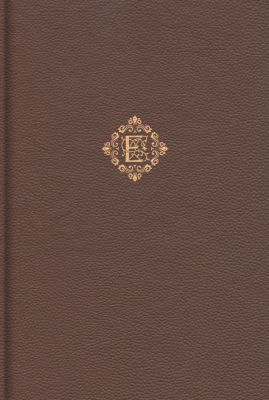 Jonathan Edwards, Legacy Edition
About this Item
Overview
INCLUDED WORKS
GOD GLORIFIED IN MAN'S DEPENDENCE

The first published work by eighteenth-century pastor and theologian Jonathan Edwards, God Glorified in Man's Dependence was originally preached in the fall of 1730 in Northampton, Massachusetts. After preaching the sermon again in Boston on July 8, 1731, to an assembly of clergy, Edwards was encouraged to publish the sermon, which focuses on the insufficiency of men to save themselves. Due to the overwhelming power of sin, man must depend on God, who is glorified in the redemption of sinners.

CHRIST EXALTED

In August of 1738, Jonathan Edwards preached Christ Exalted out of 1 Corinthians 15:25–26. This sermon hinges on two key arguments: in our present age, evil is highly exalted in the world; and Jesus, in the work of redemption, highly exalts himself above all evil. Edwards closes by masterfully applying the glorious exaltation of Jesus Christ to the life of the Christian.

FREEDOM OF THE WILL

The Freedom of the Will stands as Jonathan Edwards' most significant contribution to Christian theology. In this classic work, Edwards argues against the notion of libertarian free will. He insists that human action is bound by human will, which in turn is bound by human nature and desire. Because humans are sinners by nature, our will, Edwards argues, is naturally bent towards sin. But because humans always do exactly what they want to do, they are responsible for their actions. As long as humans are in sin, their will is bound to sin; but when sinners repent and believe in Christ, God frees them of this bondage. Thus, true freedom of the will comes only to those who have been saved by the grace of God in the gospel of Jesus Christ.

SINNERS IN THE HANDS OF AN ANGRY GOD

Jonathan Edwards preached his most famous sermon, Sinners in the Hands of an Angry God, on July 8, 1741 in Enfield, Connecticut. Using the vivid imagery typical to his day, Edwards described the wrath of God and the horrible punishment of hell that all sinners deserve. But Sinners in the Hands of an Angry God is not merely a "hellfire and brimstone" sermon, as it has come to be known. The emphasis of Edwards in this sermon is the grace of God, by which he restrains sinners and offers them the chance to repent and be saved from their just punishment.
Shop All "Legacy of Faith"
Specifications
Dimension - Height

1.3

Dimension - Length

9.5

Dimension - Width

6.3

Language

English

Medium Format

Leather / fine binding

Number of Pages

400

Product Group

Books

Product Type

Non-Fiction

Publication Date

2018-06-01

Publisher

B&H Publishing Group

ISBN10

1535939664

ISBN13

9781535939669