Item#: 005768560
Genesis: The Life of Abraham - Bible Study Book
Frequently bought together
This item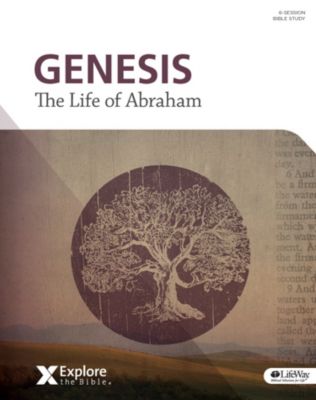 Genesis: The Life of Abraham - Bible Study Book
About this Item
Overview
Genesis: The Life of Abraham Bible Study Book offers a six-session study that will equip you and/or your group members to discern between truth and error, light and darkness, and assurance and doubt.
This study walks in the paths and footsteps of Abraham, an imperfect man used by God in mighty ways despite his obvious flaws. Abraham is known as the father of Israel. What is not always known, however, is the twisted and disorienting route required to get him where God needed him to be.
Genesis is a foundational educational experience for both believers and non-believers alike. And Abraham, as much as any person in biblical account or history, encounters experiences that any of us might find familiar: God's call, waiting on God, doubt, decision-making under duress, confronting wickedness, and seeing first-hand how God keeps His promises to us.
Session Titles
Session 1 Genesis 12:1-9 – When God Calls God called Abraham to obey Him in faith.
Session 2 Genesis 15:1-7, 13-16 – Waiting for the Promise God established His covenant relationship through Abram and his offspring.
Session 3 Genesis 17:1-8,15-22 – A New Name God is capable of fulfilling His covenant promises.
Session 4 Genesis 18:20-25; 19:12-16 – Where Wickedness Rules God does not allow disobedience and rebellion against Him to continue unrestrained. He rescues by grace alone.
Session 5 Genesis 21:1-8 – Keeping His Promise God keeps His promises and can be trusted.
Session 6 Genesis 22:1-14 – The Faith Test; Genesis 24:1-17 – God Provides Abraham demonstrated faith in God's power to save. God provides for the needs of His people in a way that is consistent with His eternal plan.
Features:
Biblically rooted and gospel-centered content
Leader material (tips for leading a group and questions for guiding six group sessions)
Text-driven, streamlined experience with God's Word
Benefits:
Contains historical background that provides a greater context for spiritual growth
Presents reliable, biblical truth
Helps leader's confidence and preparation
Offers biblical insight for your life today
Includes provocative questions, scriptural support and text, application, and preparation
Author: Afshin Ziafat Afshin is the Lead Pastor of Providence Church in Frisco, Texas. He is also the founder of Afshin Ziafat Ministries and travels nationally and internationally proclaiming the Gospel of Jesus Christ in churches, retreats, camps, conferences, and missions. Afshin helped launch Vertical Bible Study at Baylor University in Waco, Texas. He also partners with Elam Ministries and travels into the Middle East regularly to train Iranian pastors.
Specifications
Age Minimum

18

Dimension - Length

9.5

Dimension - Width

7.5

Language

English

Medium Format

eBook

Number of Pages

80

Product Group

Bible Study

Product Type

Study Guide

Publication Date

2015-06-01

Publisher

Lifeway Christian Resources

ISBN10

1430045450

ISBN13

9781430045458