Item#: 005818343
Explore the Bible: Students Leader KJV Summer 2020 e-book
Frequently bought together
This item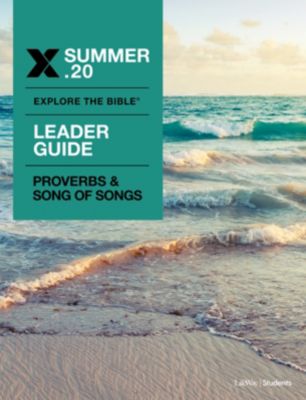 Explore the Bible: Students Leader KJV Summer 2020 e-book
About this Item
Overview
The Explore the Bible: Students Leader Guide gives leaders clear direction and support in guiding a group of students through each session.
The Summer 2020 study focuses on Proverbs and Song of Songs, unpacking for students what it looks like to live wisely as citizens of the kingdom of God. You have probably heard the phrase, "Knowledge is power." Knowledge, however, is only powerful when we put it into practice. Proverbs and Song of Songs, challenge students to understand God's design for their lives, their relationships, their bodies, and their relationship with Him and let that design direct their thoughts, attitudes, and actions.
Features:
Explore the Bible gives leaders 3 ways to begin their study.

2 Explore Options – optional group activities or visual illustrations that introduce each week's Central Truth.
Talk it Out questions – easy-to-discuss questions which draw students out and introduce Central Truth of each session.

Discipleship Moments – we know that there is more to discipleship than studying the Bible, therefore each session now includes a challenge to leaders to share about their personal discipleship with their students.
All questions are numbered in order to help leaders guide their students as they follow along in their Daily Discipleship Guides.
Streamlined Bible Commentary – each session provides commentary aimed at helping leaders better understand the Bible passages they are teaching.
Features
13 sessions of Bible study
An easy-to-follow plan to facilitate group study and discussion
Context notes that answer important questions and help leaders and students understand the Bible in context.
Great for Sunday School classes and small groups.
Purchase one per leader.
Also consider the Explore the Bible: Students app for iOS and Android devices.
Specifications
Age Minimum

12

Curriculum Quarter

Summer 2020

Language

English

Medium Format

eBook

Number of Pages

136

Product Group

Bible Study

Product Type

Leader/Facilitator Guide

Publication Date

2020-01-15

Publisher

Lifeway Christian Resources

ISBN10

1535975415

ISBN13

9781535975414

Age Max

18