Item#: 005707285
Explore the Bible: Nehemiah
Frequently bought together
This item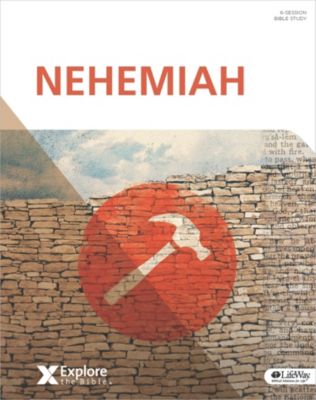 Explore the Bible: Nehemiah
About this Item
Overview
Nehemiah Group Bible Study provides a personal learning experience and leader material for a six-session study. Nehemiah, a man who was used by God in perilous times, reveals the incredible power of a single individual. Nehemiah was the cupbearer to a Persian king who sought permission to return to Jerusalem to rebuild the wall, encircling the city.
Nehemiah, written much like a journal, records a remarkable story of Jewish history: the restoration of the walls around Jerusalem that provide the protection of the holy city. Without the heroic acts of Nehemiah, the city of Jerusalem would have been in danger and the Jewish nation and their religion may have ceased. God used individuals in perilous times to stand against unholy people to preserve the Jewish people and their culture and tradition.
Difficult situations require godly leadership. Nehemiah did more than lead a construction project; he led the people to correct injustices, to return to worship, and to spiritual revival. Nehemiah is an example to believers that God's people have to leave places of comfort to be used by God to accomplish His purpose.
Session titles:
Lesson 1: Nehemiah 2:1-8, 17-18: God Inspires the Work
Lesson 2: Nehemiah 6:1-19: Be Faithful in Adversity
Lesson 3: Nehemiah 7:1-8: Do Your Appointed Part
Lesson 4: Nehemiah 8:1-8: Get an Understanding
Lesson 5: Nehemiah 9:32-37: Return to the Restoring God
Lesson 6: Nehemiah 10:28-39: Commit Your Way to the Lord
Features:
Biblically-rooted, gospel-centered, and text-centered content

Leader material (with questions and activities)

Interactive commentary
General Editor:
Dr. Tony Evans is pastor of Oak Cliff Bible Fellowship and author of more than 50 books. His radio show, The Urban Alternative, airs on radio stations in more than 40 countries.
Specifications
Age Minimum

18

Language

English

Medium Format

eBook

Product Group

Bible Study

Product Type

Study Guide

Publication Date

2014-09-01

Publisher

Lifeway Christian Resources

ISBN10

1430038861

ISBN13

9781430038863

Age Max

0