Item#: 005707284
Explore the Bible: Hebrews: Chapters 8-13 Group Bible Study
Frequently bought together
This item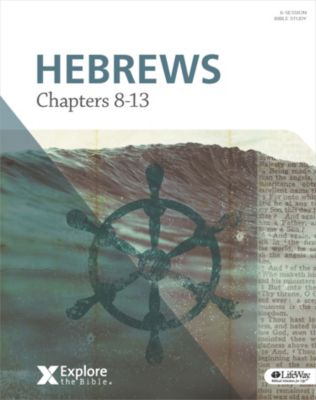 Explore the Bible: Hebrews: Chapters 8-13 Group Bible Study
About this Item
Overview
Explore the Bible: Hebrews: Chapters 8-13 Group Bible Study helps believers understand how Jesus is the fulfillment of the Old Testament promise of a New Covenant. The writer of Hebrews appeals to the experiences of men and women of faith as examples for believers and encourages them to continue the journey of faith, looking to Jesus for help. The context of the original audience indicates that these early followers were contemplating abandoning their faith so the writer of Hebrews exhorts Christians to trust in Jesus in the midst of persecution and hard times. And these words are faithful and true for believers today who face difficulties in following Jesus. Includes leader material. Great for adult Sunday School classes and small groups. Purchase one for each participant. Explore the Bible brings you deep, book-by-book study. Each study focuses on one book of the Bible (or section of a book) and features questions designed to encourage group discussion. These studies encourage transformational encounters with Scripture that help participants know the Word in a personal and meaningful way. And because the Word equips us "for every good work," as Paul wrote in 2 Timothy 3, these studies help adults understand how to live it out in their own life context.

Session titles:

Only Jesus Transforms – Hebrews 8:7-13 (Context: Hebrews 8:1-14)
Focus: Jesus established a New Covenant based upon God's good promises.

The Perfect Offering – Hebrews 9:11-14 (Context: Hebrews 9:1-10:25)
Focus: Christ's atoning sacrifice established a New Covenant of eternal redemption.

Faith Defined – Hebrews 11:1-7 (Context: Hebrews 10:26-11:40)
Focus: A relationship with God begins with faith in Jesus.

The Discipline of Suffering – Hebrews 12:1-4 (Context: Hebrews 12:1-13)
Focus: Christ's perfect sacrifice calls for His followers to remain faithful regardless.

New Covenant Community – Hebrews 12:18-24 (Context: Hebrews 12:14-29)
Focus: The New Covenant includes a new kind of community.

Living Out the Faith – Hebrews 13:1-8 (Context: Hebrews 13:1-19)
Focus: Believers are to live to a higher standard.
Features:

Biblically rooted

Leader material (questions with optional questions, activities, general leadership, etc)

Text driven

Streamlined experience
Specifications
Age Minimum

18

Language

English

Medium Format

eBook

Number of Pages

80

Product Group

Bible Study

Product Type

Study Guide

Publication Date

2014-05-01

Publisher

Lifeway Christian Resources

ISBN10

1430038853

ISBN13

9781430038856

Age Max

0