Item#: 005811536
Explore the Bible: Genesis—The Life of Jacob - Bible Study eBook
Frequently bought together
This item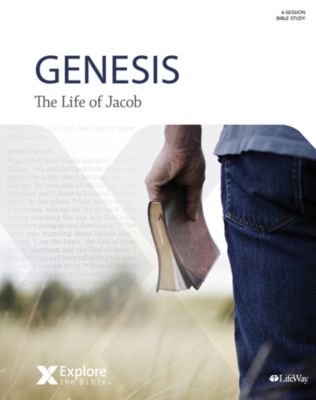 Explore the Bible: Genesis—The Life of Jacob - Bible Study eBook
About this Item
Overview
Explore the Bible: Genesis—The Life of Jacob Bible Study eBook offers convenient access to the six-session study, which focuses on the life of Jacob and shows that God can use us, like Jacob, to accomplish His purpose in the world in spite of our sinfulness.

Genesis 27–33 tells the stories of Abraham and his descendants, who carried out God's work in the world. One of those early patriarchs was Jacob. In spite of Jacob's sin and deceitfulness, God used him to continue His covenant and to make from him a great nation.

In this six-week study you will examine Jacob's journey to the land of Haran, his twenty-year stay there, and his return to the land of Canaan. As Jacob left Canaan and later returned, he had encounters with God that changed his life.

Your group will see how God used a flawed individual like Jacob, just as he uses us in our modern context. God helps us, like Jacob, grow and change to become what He wants us to be.

SESSION TITLES
1. The Deceiver (Genesis 27:18-29)
2. Not Alone (Genesis 28:10-22)
3. Family (Genesis 29:16-30)
4. Home (Genesis 31:2-16)
5. Transformed (Genesis 32:24-32)
6. Reconciled (Genesis 33:1-15)

Features:
• Six small-group sessions
• Daily, personal-study opportunities for ongoing spiritual growth
• Verse-by-verse exploration of key passages in Genesis 27–33
• Scriptural text, commentary, and application
• Insights into biblical and historical context
• Provocative questions to encourage learning

Benefits:
• Understand that God accomplishes His purpose despite His covenant people's sin.
• Learn how God reveals His purpose to people He chooses, giving them purpose in the process.
• Encourage your group to see how God transforms people for use in His divine plan.
• Show your group that God uses imperfect people with imperfect lives to advance His plans.
• Acknowledge that reconciled relationships are a blessing from God, with the greatest blessing being a restored relationship with Him.
• Encourage your group by celebrating all of the ways God gives purpose to their lives.
• Inspire your group by highlighting ways God works to provide, direct, transform, and reconcile.
Specifications
Age Minimum

18

Dimension - Height

0.25

Dimension - Length

9.5

Dimension - Width

7.5

Language

English

Medium Format

eBook

Number of Pages

80

Product Group

Bible Study

Product Type

Study Guide

Publication Date

2018-10-01

Publisher

Lifeway Christian Resources

ISBN10

1535941464

ISBN13

9781535941464