Item#: 005845998
Esther - Bible Study Book + Streaming Video Access
Frequently bought together
This item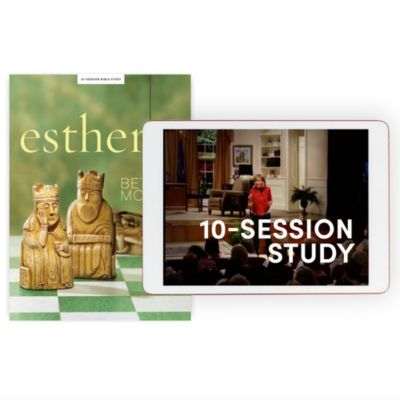 Esther - Bible Study Book + Streaming Video Access
About this Item
Overview
Esther - Bible Study Book + Streaming Video Access includes the physical Esther study book and perpetual streaming access* to 10 teaching sessions by Beth Moore for individual viewing.

Join Beth in a very personal examination of the Old Testament story of Esther as she peels back the layers of history and shows how very contemporary and applicable the story is to our lives today. If you've ever felt inadequate, threatened, or pushed into situations that seemed overpowering, this is the Bible study for you. Just as it was tough being a woman in Esther's day, it's tough today.

Video Sessions:
Introduction (62:00)—In this session Beth introduces the study and looks at the historical background and the uniqueness of the Book of Esther.
Session 1: A Royal Mess (61:00)?—Beth gives character sketches of Mordecai and Esther. Now you don't have to miss any of the sessions of this study of Esther, a book that contains treasures to aid us in our hurried, harried, and pressured lives.
Session 2: A Contest for a Queen (57:00)—Beth introduces Haman and explains his hatred toward Mordecai and all Jews.
Session 3: A Raging Passion for Honor (57:29)—Beth discusses God-appointed destinies and the dilemma of destiny from a human perspective.
Session 4: If You Remain Silent (63:00)—Beth discusses the changes Esther goes through that move her from self-preservation to brave determination.
Session 5: A Table Set for Providence (64:00)—is all about timing. There is time to be silent, and a time to speak and it is God-timed.
Session 6: What Goes Around (63:00)—Beth discusses the Reversal of Destiny (also called the Reversal of Fortune) and the unexpected turn of events that occurs at banquets.
Session 7: Where Is the Man? (64:00)—Beth discusses the impact of all of the events on all four major characters.
Session 8: The Right to Be Ready (64:00)—Beth discusses how God brings about the reversal of destiny and turns the curse into a blessing.
Session 9: The Tables Turned (53:00)—Beth shows how the Jewish race was preserved by an unlikely partnership through improbable circumstances, thus accomplishing God's promise to His people.


The Bible Study Book + Streaming Video Access option is only meant to be viewed by the person who purchased it. These videos cannot be copied or shared. If you need videos to show in a small group study, please purchase the Video Streaming - Group option if available.

*Video access will remain as long as this study is in print.

Shop All "Esther"
Specifications
Age Minimum

18

Dimension - Height

0.5

Dimension - Length

10.9

Dimension - Width

8.54

Language

English

Medium Format

Video

Number of Pages

225

Product Group

Bible Study

Product Type

Bible Study Accessory

Publication Date

2023-01-26

Publisher

Lifeway Christian Resources