Item#: 005838413
El Proyecto Evangelio para niños, semestre 3: Guías para el líder
Frequently bought together
This item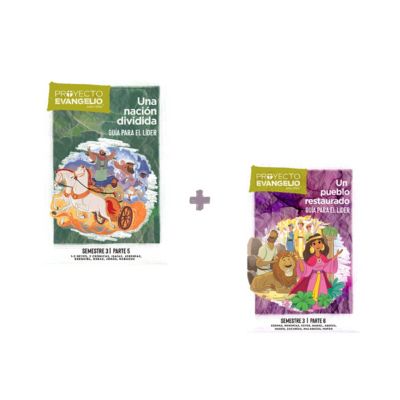 El Proyecto Evangelio para niños, semestre 3: Guías para el líder
About this Item
Overview
Guías para el líder incluye:

Parte 5: Una nación dividida: ayuda a los niños a descubrir cómo Israel y Judá siguieron en su desobediencia a Dios. Dios envió profetas como Elías y Eliseo para revelar Su poder, amor y fidelidad. Dios recordó a Su pueblo de Su plan de enviar un Redentor para lavar su pecado. En últimas, Dios juzgó el pecado de Israel y los castigó quitando su presencia. Por medio de Jeremías, Dios anunció un nuevo pacto el cual el pecado se perdonaría una vez y para siempre. En el tiempo señalado, Dios castigó nuestro pecado por medio de Su Hijo, Jesús, y lo coronó como nuestro Rey para siempre.

Parte 6:Un pueblo restaurado: ayuda a los niños a ver cómo a pesar de la desobediencia de los Israelitas conllevó a 70 años de exilio en Babilonia, Dios guardó Su promesa de llevar a Su pueblo de vuelta a casa a Judá. Los profetas animaron a las personas a reconstruir el templo. El profeta Zacarías dijo que un Rey futuro vendría humilde sobre un asno. Incluso habiendo regresado a casa, los Israelitas lucharon en obedecer totalmente y adorar a Dios. Nehemías lideró al pueblo en la reconstrucción de los muros de Jerusalén y Esdras volvió a comenzar la enseñanza de la Palabra de Dios. Malaquías, el último profeta del Antiguo Testamento, llamó al pueblo al arrepentimiento porque pronto vendría el Mesías. La escena estaba puesta para la llegada de Jesús.

ENGLISH DESCRIPTION
The Gospel Project for Kids Spanish Semester 3 Leader Guides features easy-to-use, low-prep lesson plans that teach kids about the gospel of Jesus Christ in an age-appropriate manner. Order one per leader.
A Nation Divided helps kids discover how Israel and Judah continued to disobey God. God sent prophets like Elijah and Elisha to reveal His power, love, and faithfulness. God reminded His people of His plan to send a Rescuer to take away their sin. Ultimately, God judged Israel's sin and punished them by removing His presence. Through Jeremiah, God told about a new covenant in which sin can be forgiven once and for all. At just the right time, God punished our sin through His Son, Jesus, and made Him our King forever.

A People Restored helps helps kids see that after the Israelites' disobedience led to 70 years of exile in Babylon, God kept His promise to bring His people home to Judah. Prophets encouraged the people to rebuild the temple. The prophet Zechariah told of a future King who would come humbly on a donkey. Even after returning home, the Israelites struggled to obey God completely and to worship Him. Nehemiah led the people to rebuild Jerusalem's walls and Ezra began teaching God's Word again. Malachi, the last Old Testament prophet, warned the people to repent because the Messiah was coming soon. The stage was set for the arrival of Jesus.
Specifications
Age Minimum

3

Dimension - Height

0.82

Dimension - Length

8.1

Dimension - Width

6.4

Language

Spanish

Medium Format

Kit

Number of Pages

448

Product Group

Bible Study

Product Type

Leader/Facilitator Guide

Publication Date

2021-12-01

Publisher

Lifeway Christian Resources

ISBN10

1087768799

ISBN13

9781087768793