Item#: 005831119
El Proyecto Evangelio para niños, semestre 2: Paquete para el líder
Frequently bought together
This item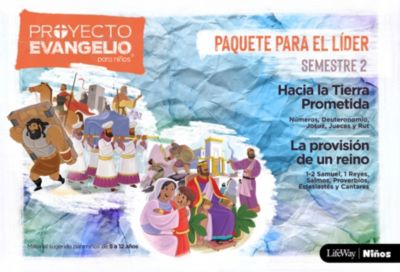 El Proyecto Evangelio para niños, semestre 2: Paquete para el líder
About this Item
Overview
El Proyecto Evangelio para niños es un estudio que enseña a los niños de 5 a 12 años que la Biblia no es solo una colección de historias sino que es una historia unificada: la historia de la redención de Dios. Cada lección permite a los niños descubrir el mensaje del evangelio de Jesús en cada historia de la Palabra de Dios. Este Paquete para el Líder incluye el Semestre 2. Un total de 26 lecciones para 6 meses de instrucción en una clase bíblica o de escuela dominical. El paquete contiene los siguientes materiales, ya sea en formato impreso o digital:
- Parte 3: Hacia la Tierra Prometida (Números, Deuteronomio, Josué, y Rut) y Parte 4: La provisión de un reino (1-2 Samuel, 1 Reyes, Proverbios, Eclesiastés y Cantares).
- Guías para el líder (2)
- Libro de actividades para niños menores (x2)
- Libro de actividades para niños mayores (x2)
- Canciones, música y letra para cada lección
- Videos complementarios para las narraciones bíblicas
- Videos de misiones para cada lección
- Ayudas digitales para líderes, administradores y maestros
- Código de acceso para las ayudas digitales descargables
En Hacia la Tierra Prometida descubrimos cómo Israel dudó y desobedeció a Dios, aún sin que Dios alterara sus planes de bendecirlo. Dios estuvo con Su pueblo mientras el pueblo vagaba 40 años en el desierto. Al final, Él los llevó a la tierra prometida. Los israelitas debían conquistar la tierra prometida, así que Dios peleó por ellos. Josué lideró al pueblo y les motivó a ser fieles al único Dios verdadero. Bajo el liderazgo de Josué, el pueblo conquistó la tierra prometida y comenzó a vivir allí. Cuando las naciones vecinas amenazaron y atacaron a Israel, Dios proveyó nuevos líderes, llamados jueces, para ayudar a rescatar a Su pueblo. Si bien estos jueces solo pudieron dar una ayuda temporal, ellos le recordaron al pueblo de que un día Dios proveería un Juez perfecto que los rescataría para siempre.
En La provisión de un reino descubrimos cómo a pesar de todo lo que había hecho Dios por Israel, el pueblo de Dios siguió en su rebeldía en contra de Dios. Ellos demandaban a un rey, así yendo en contra del plan de Dios e ignorando Su advertencia sobre cómo este les gobernaría. Dios le dio a Israel su primer rey, Saul, pero a causa de la desobediencia de Saul, Dios lo rechazó y escogió a David para ser rey. Salomón, el hijo de David, reinó sobre Israel con gran sabiduría, pero su pecado llevó a la nación hacia la división de dos reinos. En Salomón vemos nuestra necesidad de Jesús, un Rey sin pecado y dueño de la sabiduría.

The Gospel Project for Kids is a Christ-centered ongoing weekly Bible study resource that looks at the big picture of God's story; the story of redemption through Jesus Christ. Each week, kids of all ages will follow a chronological timeline of Bible events, all the while learning how each story points to the gospel of Jesus Christ. A total of 26 instructional Sunday/Bible School lessons for 6 months. The package includes the following material, either printed or digital:
- Part 3: Into the Promised Land (Numbers, Deuteronomy, Joshua, y Ruth) and Part 4: A Kingdom Provided (1-2 Samuel, 1 Kings, Proverbs, Ecclesiastes and Song of Songs).
- (2) Leader's guide
- Younger Kids Activity Pages (x2)
- Older Kids Activity Pages (x2)
- Songs, music and lyrics for each lesson
- Complimentary videos for biblical readings
- Mission videos for each lesson.
- A Digital guide for leaders, staff and teachers
- Access code to downloadable digital guides.
Into the Promised Land helps kids discover how Israel doubted and disobeyed God, yet He still planned to bless them. God was with His people as they wandered in the wilderness for 40 years. Finally, He led them back to the promised land. The Israelites needed to conquer the promised land, so God fought for His people. Joshua led the people and encouraged them to be faithful to the one true God. Under Joshua's leadership, the people conquered the promised land and began to live in it. When the neighboring nations threatened and attacked Israel, God provided new leaders, called judges, to help rescue His people. While these judges could only give temporary help, they reminded God's people that one day God would provide a perfect Judge to rescue His people for good.
A Kingdom Provided helps kids discover how despite all God had done for Israel, God's people continued to rebel against Him. They demanded a king, going against God's plan and ignoring His warnings about how a king would rule them. God provided Israel's first king, Saul, but because of Saul's disobedience, God rejected him and chose David to be king. David's son Solomon ruled Israel with great wisdom, yet his sin led to the nation of Israel being divided into two kingdoms. Solomon reminds us of our need for Jesus—the sinless, truly wise King.
Specifications
Dimension - Height

1

Dimension - Length

12.9

Dimension - Width

8.9

Language

Spanish

Medium Format

Kit

Number of Pages

288

Product Group

Bible Study

Product Type

Study Guide

Publication Date

2021-01-25

Publisher

Lifeway Christian Resources

ISBN10

1087739543

ISBN13

9781087739540