Item#: 005790761
Disciples Path: The Journey Personal Study Guide, Volume 3 eBook
Frequently bought together
This item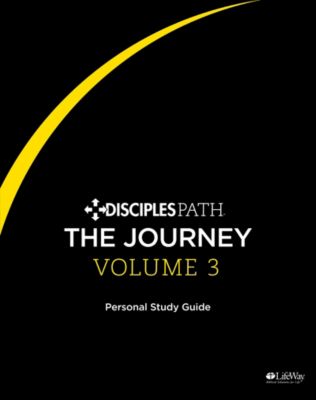 Disciples Path: The Journey Personal Study Guide, Volume 3 eBook
About this Item
Overview
Disciples Path: The Journey Vol. 3 Personal Study Guide eBook offers a mix of group discussion, personal study, and practical application. It includes questions for reflection, prayer guidance, a session introduction, Scripture passages, commentary, a weekly activities checklist, a Bible reading plan, and devotionals.

For a long time, the church has put an emphasis on making converts. The call of Christ is not to make converts, but to make disciples.

But discipleship is a process. And who has the time to disciple an entire church? Fortunately, the solution is already sitting in the congregation. There is a disciple-maker inside every Christian. Disciples Path: The Journey was created just for them. It's a one-year intentional plan of discipleship that's designed to make disciples who make disciples.

Disciples Path was originally created by 14 disciple-making church leaders who were brought together to think through how to instill biblical principles and practices of discipleship. The group included senior pastors, education ministers, and small group pastors from various churches, ministry areas, and traditions.

They realized that the disciple's path should be progressive, relational, disciplined, and replicable.

• Disciples Path: The Journey is progressive in that each study builds on the previous one with a destination in mind.

• Disciples Path: The Journey is relational because discipleship is taught and caught—time spent with the disciple-maker helps the disciple ask questions, observe practices, and learn specific skills, truths, and principles that will be exercised for the lifetime of the disciple.

• Disciples Path: The Journey is disciplined because what happens between meetings is more important than what happens during them. The end of each session presents a set of expectations that the growing disciple agrees to accomplish on his own before the next session.

• Disciples Path: The Journey is replicable in that discipleship is an ongoing practice. The disciple should become a disciple-maker. By using these resources, even the first-time disciple-maker will be equipped to take on this important but sometimes intimidating role.

Volume 3 Study Plan:
1. Immersed in the Word
2. Connected Through Prayer
3. Living in Community
4. Spirit-Filled Life
5. Serving His Kingdom
6. Spreading the Good News
7. Christ Came to Us
8. Christ Came with a Mission
9. Christ Came to Die
10. We Die with Christ
11. We Go with Christ
12. We Go Together with Christ
13. Reflect and Connect

Features:
• A practical plan for group engagement and discussion
• Content for individual use during the time between group gatherings

Benefits:
• Become a disciple that will be able to disciple others.
• Gain confidence to share your biblical knowledge and life experience.
• Reap the benefits of becoming a mature disciple of Christ.
• Help your church expand its reach and influence in the community.

Purchase one for each participant.

Specifications
Age Minimum

18

Dimension - Length

9.5

Dimension - Width

7.5

Language

English

Medium Format

eBook

Number of Pages

208

Product Group

Bible Study

Product Type

Study Guide

Publication Date

2017-03-01

Publisher

Lifeway Christian Resources

ISBN10

1430063262

ISBN13

9781430063261