Item#: 005325212
Buried Hope or Risen Savior?
Frequently bought together
This item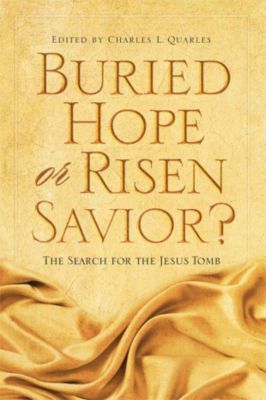 Buried Hope or Risen Savior?
About this Item
Overview
Buried Hope or Risen Savior? argues for the credibility of Jesus Christ's resurrection, engaging the issue in relation to the recent "Jesus Family Tomb" claims that continue making headlines around the world.

Among the contributors, Steve Ortiz (professor of Biblical Archaeology at Southwestern Baptist Theological Seminary) discusses the general background of this type of tomb and the archaeology of the Talpiot tomb site. Craig Evans (New Testament professor at Acadia Divinity College) writes about ossuaries and tomb inscriptions. Richard Bauckham (New Testament professor at Scotland's University of St. Andrews) gives the history of Jewish names, extrabiblical writings, and Mary Magdalene. William Dembski (SWBTS research professor in Philosophy) discusses the statistical evidence for the names found on the Talpiot tomb to have been "Jesus." Mike Licona (North American Mission Board director of Apologetics and Interfaith Evangelism) responds to claims that finding the bones of Jesus would not disprove Christ's resurrection. Gary Habermas (Apologetics & Philosophy chair at Liberty University) summarizes the evidence for the bodily resurrection of Jesus. And Darrell Bock (New Testament professor at Dallas Theological Seminary) addresses the importance of the resurrection and how Christians should respond to challenges upon their faith.
Specifications
Dimension - Height

0

Language

English

Medium Format

eBook

Number of Pages

256

Product Group

Books

Product Type

Academic Book

Publication Date

2010-04-01

Publisher

B&H Publishing Group

ISBN10

1433671263

ISBN13

9781433671265